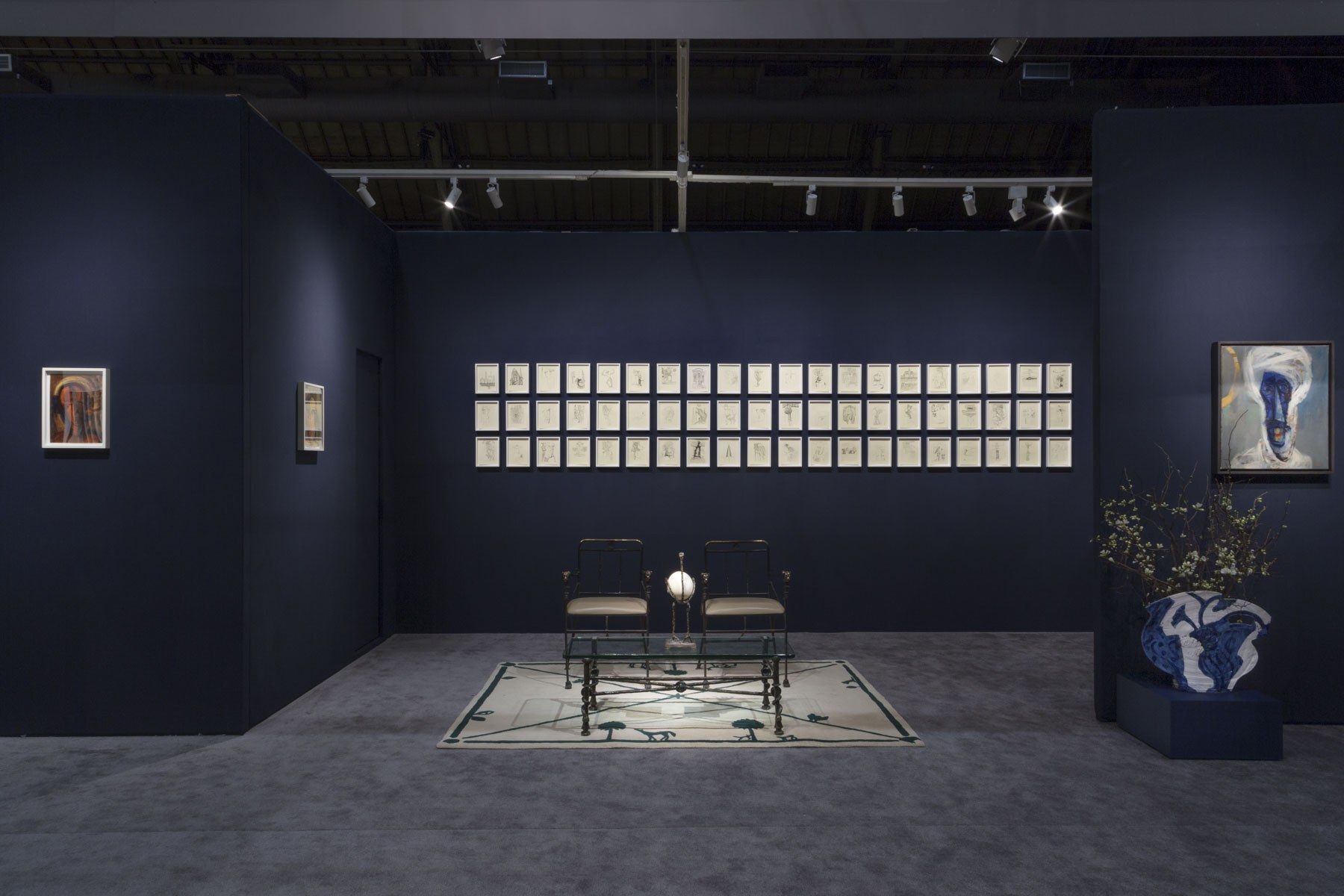 "A picture is no more than a mirror, a vehicle that takes one back to one's self, to turn one's sight inward to find the self within and begin to meditate."
-Ibrahim El-Salahi, 2005
Ibrahim El-Salahi's career spans over five decades and is marked by rigorous experimentation and intellectual curiosity. At 87 years old, he is recognized by curators and museums from around the world as one of the most important living African artists – a pioneer of African modernism. His work draws from a vast array of local, national and international sources. The traditional crafts and ornamentation found in his native Sudan and the Africanized Arabic calligraphy used by his father for transcribing verses of the Qu'ran have been potent influences. El-Salahi's art also reflects his itinerant life, and the many years he has spent living, studying and working abroad. The murals of the Mexican social-realists, the abstract geometric paintings of Piet Mondrian, and the cut outs of Henri Matisse are some of the global influences that have shaped his work.
For his presentation at The Art Show, Salon 94 will exhibit a rare selection of "portraits" dating from 1958/60 to 1999. Several of these works convey the naturalism and specificity of life drawing, while others recall African masks with their elongated faces and abstracted planar features. El-Salahi describes these works as composites from memory, not portraits of specific people. He wrote, "In later years I would struggle to make out what these elongated facial shapes, recalling African masks, stood for: animals, humans, or humans' animal souls…I was not quite sure of the faces' origin, but the memory of the artist is full of living visual riches, reverberating in the mind whenever a painting in the making strikes." (Ibrahim El-Salahi, A Visionary Modernist, Edited by Salah M. Hassan, Museum of African Art, 2012).
El-Salahi's rich imagination, stylistic rigor and vivid storytelling come to light in a series of 82 black ink drawings from 2014-2016 that were originally made in a single sketchbook. Titled, Life Diary, they capture a period of introspection and self-examination in El-Salahi's life. The images are drawn from childhood memories, interwoven with scenes from his imagination and spiritual practice. They are a testament to his status as a "Visionary Modernist" and display his deft skill using the figure, line drawing, and abstraction to evoke both narrative and emotion.
Also on view will be El-Salahi's first sculpture, "Meditation Tree" which will be included in his solo exhibition at The Ashmoleum Museum in Oxford, England from April to September 2018. This sculpture is the first three-dimensional work relating to his celebrated Tree series in which he explored the metaphysical link between heaven and earth, creator and created, the body and the soul. He has also likened the tree to individualism, which some have interpreted as a metaphor for artistic identity. In this way, his trees are a form of self-portraiture.
"It has been some time now, since I think the year 2000, that the idea came to me about this tree called haraz…it's a huge tree with a very, very soft pulp – and there is a legend around it. They say that haraz tree fought against the rain. Because during the rainy season and the flooding of the Nile, it is completely dry, with dry leaves, nothing at all…then during the drought it comes out with blooms and with fruit and everything. This is the definitive statement. Like saying, 'I am me! I am an individual! I do not follow what everyone is doing!...When everyone is going to be green let them be green, I am not." (Ibrahim El-Salahi, A Visionary Modernist, Edited by Salah M. Hassan, Museum of African Art, 2012).
Ibrahim El-Salahi (b. 1930, Omdurman, Sudan) lives and works in Oxford, England. He was the subject of a major solo retrospective at the Tate Modern in 2013, the first given by the museum to an African born artist. He received the Prince Claus Award in 2001, and is currently subject of a solo show at the Prince Claus Fund in the Netherlands curated by Salah Hassan. His work is included in the permanent collections of the Museum of Modern Art, New York; The Metropolitan Museum of Art, New York; The Art Institute of Chicago; The Smithsonian Institute, Washington DC; The British Museum, London; Tate Modern, London; The Guggenheim Museum, Abu Dhabi; Sharjah Art Foundation, UAE; The National Gallery, Berlin, and many others.
Show Full Text