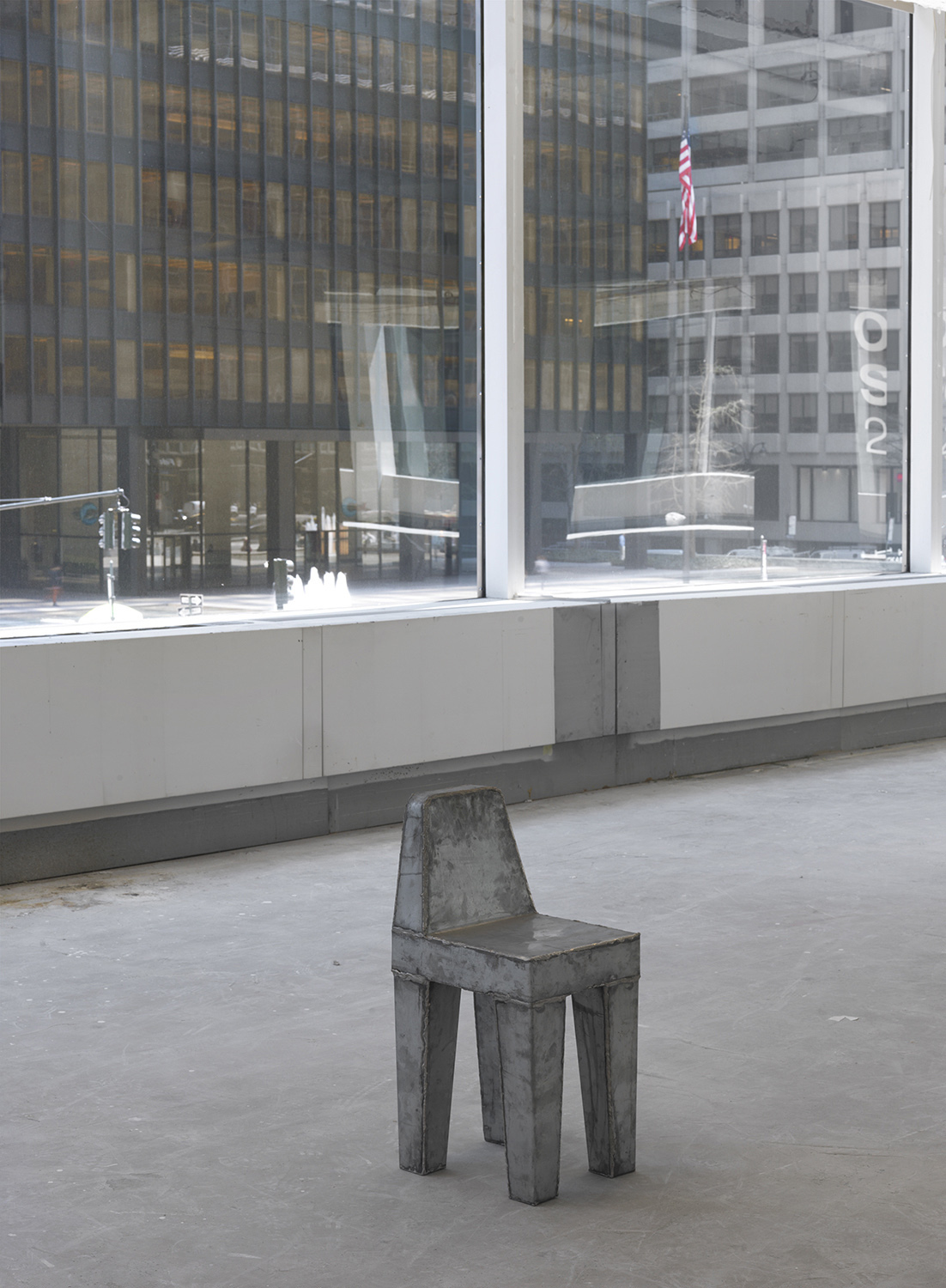 ​Maccarone, Salon 94 Design, and Salon 94 are pleased to announce their exhibition MIDTOWN, which will take place from May 3-June 9, 2017, at the historic Lever House, in Midtown Manhattan. The exhibition encompasses the building's second floor office space, with its glass windows offering views inside and out. Defying the hierarchies between art and design, this show features sculpture, furniture, vessels, baskets, tapestries, and paintings, by more than 40 artists. Together these works co-mingle in the openness and emptiness of the space. MIDTOWN celebrates the dialogue and collaborative spirit of art-making practices, and posits collegial collaboration, as artists and galleries have enthusiastically allowed for the reimagining of the context of their works.
Art, design, and commerce are longtime bedfellows. In the heyday of New York Modernism, the commercial industries of real estate, department stores, and furniture manufacturers colluded with fine art and its highest institutions. Curators from the Metropolitan Museum of Art lectured on the attributes of Modernism in the progressive showrooms of Lord & Taylor and Macy's department stores. The lines separating art and industry, high and low, fine art, craft, and design blurred. This dialogue took place and was bought and sold in midtown Manhattan. Yet, there has been an uneven relationship between these disciplines. Art has traditionally trumped functionality. A tapestry placed on the floor is drained of value. Attempting to upset this distinction, MIDTOWN regards objects equally, irrespective of their functionality or method of creation.
Together, the works on view provoke further questions about value. If an object does not look slick, fabricated, and over-produced, does it have more integrity? If a work is handmade, is it more or less valuable? The fine lines between art and craft, artist and artisan, fade. This show demonstrates an interest in exploiting this collision. Artists such as Rosy Keyser, Leonor Antunes, and Josep Grau-Garriga create contemplative yet confrontational scenarios using paint, rope, and fabric. Jessi Reaves' deconstructed and recomposed fan, Urs Fischer's cast foam recliner, and Gaetano Pesce's poured resin floor seduce. Vito Acconci, Max Lamb, and Nate Lowman tell stories, and their works are made by the span of their own bodies. They distort, radicalize, and improve upon the familiar and functional. Luis Flores, Sarah Lucas, Carly Mark, and Ruby Neri use sculptural surrogates to extend their absurd fantasies based on a collective cultural consciousness. Kenzi Shiokava, Kwangho Lee, and Oscar Tuazon carry a deep reverence for nature, and their works elegantly reinforce the precarious relationship between the organic and synthetic. Anton Alvarez, Dozie Kanu, and Andrea Zittel's works examine ways to make new domestic propositions.
In the 90s after the dot-com boom abruptly deflated, giant office spaces felt like cities leveled by tornadoes. Wires hung from ceilings, empty electrical outlets beckoned hungrily, and desk chairs sat empty. No phones rang. Copiers weren't copying. Emails weren't being sent. After a period of extreme technological development and economic growth at an absurd speed, the high was over. This vacant office space, situated within an iconic Modernist building, evokes that post dot-com era—empty and mute. However, an uncanny energy and implied power emanates from this space with no walls and bare electricity.
Above, firms buzz with energy, money is being made, and blue chip art hangs on the walls. How, in this building, does one negotiate a commercial gallery exhibition about a return to the handmade, with feelings of anxiety, unease, instability, tenderness, rawness, and the restlessness of our time? The show does not necessarily answer that question, but it offers a space for contemplation, interrogation, and consideration of this conundrum and reminds us of the interdependence between art and life.
Galleries can react quickly—with a speed unmatched by institutional colleagues. The idea for this show was inspired only a few months ago by a conversation about art, design, and real estate. Thus the show is additive, formal, and intuitive. Traversing the space, from a beaded Nick Cave Soundsuit, to a silk and bronze Barbara Chase-Riboud abstracted homage portrait, to Alex Hubbard's crumpled resin painting of cast garbage, and finally to Hannah Levy's unusable latex lounge chair, with little shocks and pokes, this exhibition is an attempt to bring together stimulating objects made by artists on the frontline of our creative culture.
Participating artists include Vito Acconci, Anton Alvarez, Leonor Antunes, Thomas Barger, Jarrod Beck, Huma Bhabha, Carol Bove, Scott Burton, Nick Cave, Barbara Chase-Riboud, James Crosby, Alex Da Corte, Luca Dellaverson, Andile Dyalvane, R. M. Fischer, Urs Fischer, Luis Flores, FlucT, Christina Forrer, Josep Grau-Garriga, Alex Hubbard, Dozie Kanu, Melike Kara, Jon Kessler, Rosy Keyser, Takuro Kuwata, Max Lamb, Kwangho Lee, Hannah Levy, Hanna Liden, Nate Lowman, Sarah Lucas, Carly Mark, Christine McHorse, Rodney McMillian, Marilyn Minter, Robert Morris, Jayson Musson, Senga Nengudi, Ruby Neri, Leon Niehues, Jo Nigoghossian, Jay Sae Jung Oh, Rick Owens, Virginia Overton, Anna-Bella Papp, Gaetano Pesce, Cheryl Pope, Jessi Reaves, Aneta Regel, Max Hooper Schneider, Eric Serritella, Kenzi Shiokava, Laurie Simmons, Lucien Smith, Keith Sonnier, Ryan Sullivan, Oscar Tuazon, Betty Woodman, Haegue Yang, Daisy Youngblood, Andrea Zittel, and Joe Zucker.
The opening for MIDTOWN is May 3, from 6 to 9 pm. There will be a special performance by FlucT, curated by and co-produced with Performa, at 8 pm. MIDTOWN will feature a flag by Marilyn Minter flown outside Lever House, produced as part of Creative Time's Pledges of Allegiance project launching on Flag Day, June 14. For all press inquiries, please contact Sophie Wise at sophie@companyagenda.com. For performance inquiries please contact Victoria Kung at victoria.kung@suttonpr.com. For all other inquiries about MIDTOWN, please contact Samuel Zients at sam@salon94.com, Julie Emerson at julie@maccarone.net, or Paul Johnson at info@salon94design.com.
MIDTOWN will be open May 3-June 9, Tuesday-Friday 11am-6pm, or by appointment, at 390 Park Avenue, 2nd Floor.
Show Full Text
---