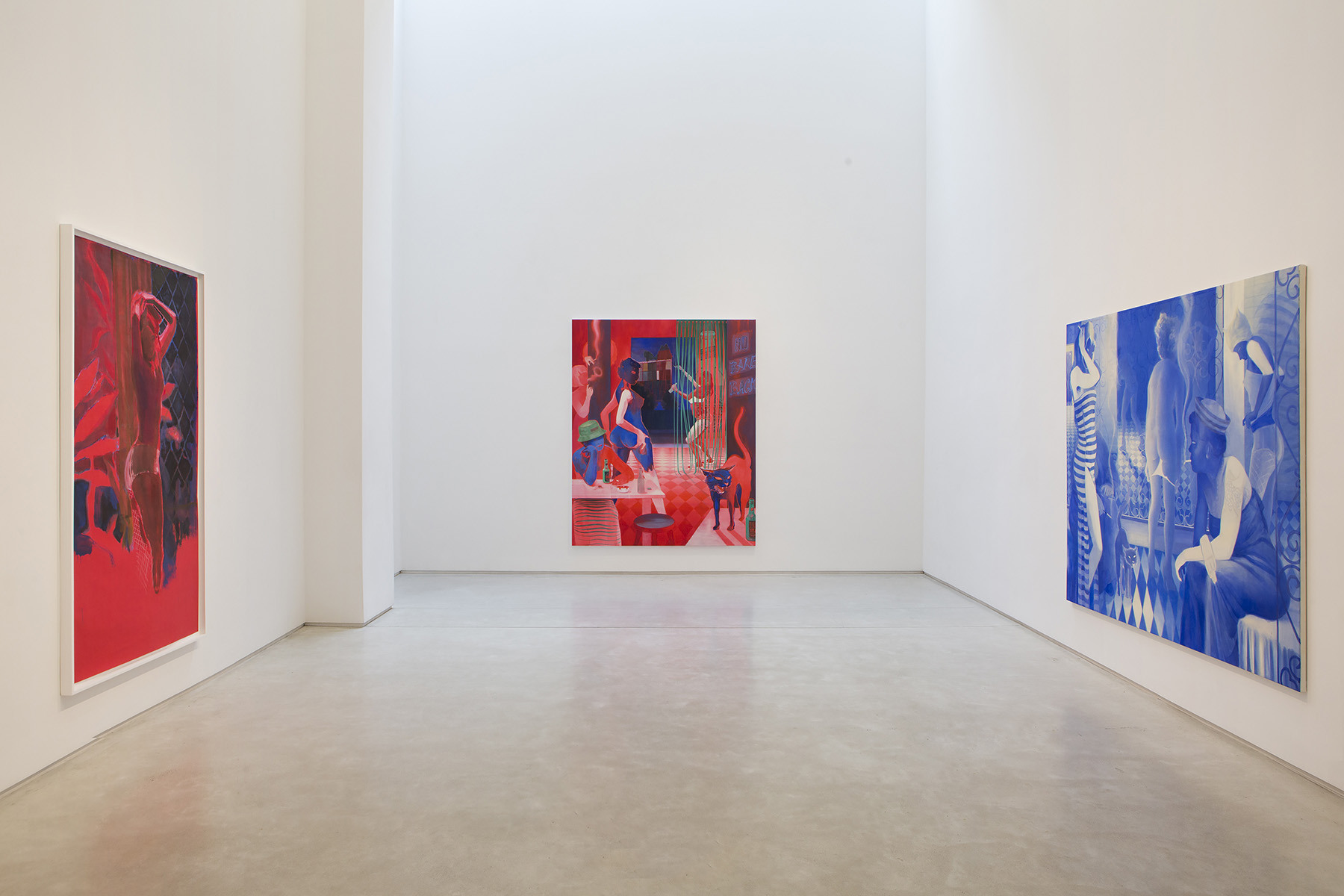 ​
The South African, London-based artist Lisa Brice's debut at Salon 94 is her first exhibition in the United States after 28 years. Brice, born in Cape Town, has shown extensively world-wide. Her work has evolved from provocative early pieces such as her Sex Kitten series (1992-93), a pin-up-style paper-doll of a headless, squatting woman covered with topical images, to a more mature signature style of figuration—an edgy yet lyrical painterly pastiche. Individual women in various gestures of dance and repose fill up the stage of her canvases. Originally trained as a painter and printmaker, Brice has maintained a clear thread throughout her work. Whether making deliberately tacky object paintings incorporating images of truncated sex workers, or in her recent paintings rife with art historical references, she has repeatedly touched on gender issues, challenging notions associated with the male gaze. Brice's women brazenly present themselves to no one but themselves: they are simultaneously in-your-face and self-contained.
Brice is concerned with liminality, and the transitory nature of things, or perhaps with transition itself. Her women are not entirely nude: they are semi-clothed. It is unclear if they are in a state of dress or undress, or veiled in body paint. The same goes for the background, as her interiors are not enclosed. They are threshold spaces that frequently contain Bonnard and Matisse-like hints of the exterior: a plant, a glimpse through the window, a screen dividing—or connecting—the inside and outside. As Brice has put it, "Uncertainty is central to painting and its strength, and that's very much what attracts me to the medium."
Brice tips the balance of her work further into uncertainty by superimposing richly associative layers of images. The five large works in Boundary Girl include references ranging from the art historical to the local. Many of the references derive from her 18 year relationship with the island of Trinidad which began with the Big River Workshop in Grande Riviere (1999) followed by a residency at CCA7 (2000) located in a former rum factory in Port of Spain. Brice has found uncanny similarities between Trinidad (which she considers her second home) and South Africa, resulting in a deeply personal identification with the island.
The present body of work expands the artist's recent use of a near single color palette to include, in particular, a rich red. In the title image Boundary Girl (Natalie), painted between 2009-2017, a woman is captured in a private moment, hands clasped over her head. Her body is set off by the fronds of a large plant behind her. The painting's title—and its color—derives from the red plant, a common variety used to mark land borders in Trinidad. The painting was composed using multiple references to create a subtle pentimento effect; combining a 1968 Playboy magazine spread with her own snapshot of a woman in white hot pants and orange fishnets taken at a street party. The pose is based on the sassy and defiant attitude of a friend, Natalie, to whom the painting is dedicated. With a personal interest in the way people carry themselves, this work refers to a boundaried code of social conduct that Brice identifies as particular to person and place.
No Bare Back, After Embah (2017) is set in a bar that she and Trinidadian artist, Embah (Emheyo Bahabba 1937- 2015) would frequent. The implied narrative is inspired by the conversations they shared. In a nod to Édouard Manet, Brice juxtaposes a seated figure in a hat, borrowed from the Impressionist's 1877 painting The Plum, with a provocative standing figure derived from a photograph of the singer Nicki Minaj. Other elements include a bottle of Stag beer, the local "man's beer," and a hissing black cat, courtesy of Manet's iconic Olympia (1863). There is also a reference to wall-painted signage common in Trinidadian bars, instructions intended for the male clientele: 'No Idling', 'No Spitting', 'No Cussing' and as featured, 'No Bare Back', forbidding shirtless attire. No Bare Back, After Embah (2017) evolved from two separate stand-alone paintings, Midday Drinking Den, After Embah I and II (2017). When combined into the single larger work, the halves become a powerful whole, its women advertising or celebrating their sexuality, thus both conforming to and defying stereotypes. Their combined gaze to the right suggests a conversation or confrontation of sorts with a 'presence' just out of frame.
Brice draws with paint, in a fluid and disciplined line, first making multiple drawings from a variety of sources. She uses Polydraw, a polyester drafting film-like tracing paper, to create enlarged gouaches of the initial images as building blocks for her larger works. Her voyeuristic and compositional impulse was set into motion early in her career after obsessively photographing with a digital camera set to night vision.
Between This And That (2017) is a remarkable work in cobalt blue, a favorite color used to denote the transitional state of twilight. Here Brice's penchant for art historical—and local—pentimento is at its peak. For Brice the blue signifies the transient moment between day and night, and recalls the color of the Blue Devil, a formidable Trinidadian carnival character traditionally played by men covered in blue body paint. The seated woman in a cap, smoking, is taken directly from Felix Vallotton's La Blanche et La Noir (1913)—itself yet another homage to Manet's Olympia. Brice has replaced Vallotton's head scarf with the more timeless sailor's cap, and the faint tattoo on her arm is all that remains of an underpainting, the famous Les Demoiselles D'Avignon (1907). Placed in conversation with her on the left, a second homage to Picasso, his Gertrude Stein, peeks through, mostly obscured. Only her hands are visible, one of which Brice has embellished with a cigarette holder. At her feet is the familiar black cat who parades in and out of the pictures. Glimpsed through a filigreed window, a female figure mutates into a fox, a reference to Tsukioka Yoshitoshi's woodblock print The Fox-Woman Kuzunoha Leaving Her Child (1890). The woman to the right of the window sports a hat with pussycat ears, per the recent political protests. In the center, Brice's piece de resistance: the not-quite-nude female, completely comfortable in her own skin, not presenting her body so much as inhabiting it.
Brice readily provides a roadmap to her references, but her evocative images require no parsing. The artist's atmospheric paintings suggest a dramatic narrative, but remain seductively enigmatic. "I am interested in the viewer's reading of figurative information and as a result my narratives remain ambiguous. In my painting process, I am constantly circumnavigating a didactic reading, erasing, replacing, repositioning. The viewer's perceptions and preconceptions might determine several readings equally as valid as anything I may have intended, or might have motivated a work's making in the first place."
Lisa Brice (b. 1968, Cape Town, South Africa) is currently based in London, United Kingdom. Notable solo exhibitions include: Work on Paper Exhibition at Stephen Friedman 2017, London, Uk, Well Worn, Goodman Gallery, Johannesburg, South Africa (2015); Cut Your Coat, French Rivera, London, UK (2014). Select group exhibitions include: Making & Unmaking, curated by Duro Olowu, Camden Art Centre, London, UK (2016); Home Truths: Domestic Interior in South African Collections, curated by Michael Godby, South African National Gallery, Cape Town, South Africa (2016); Puppet Show, curated by Tom Bloor and Celine Condorelli, Gavle Konstcentrum, Kultur & Fritid Gavle, Sweden, toured to Grundy Art Gallery, Blackpool, UK (2014).
Salon 94 Bowery is located at 243 Bowery between Stanton and Rivington Street. The gallery is open Tuesday - Saturday 11 am – 6 pm. For all press inquiries, please contact Sophie Wise at sophie@companyagenda.com or call 212-358-9516.
Show Full Text
---