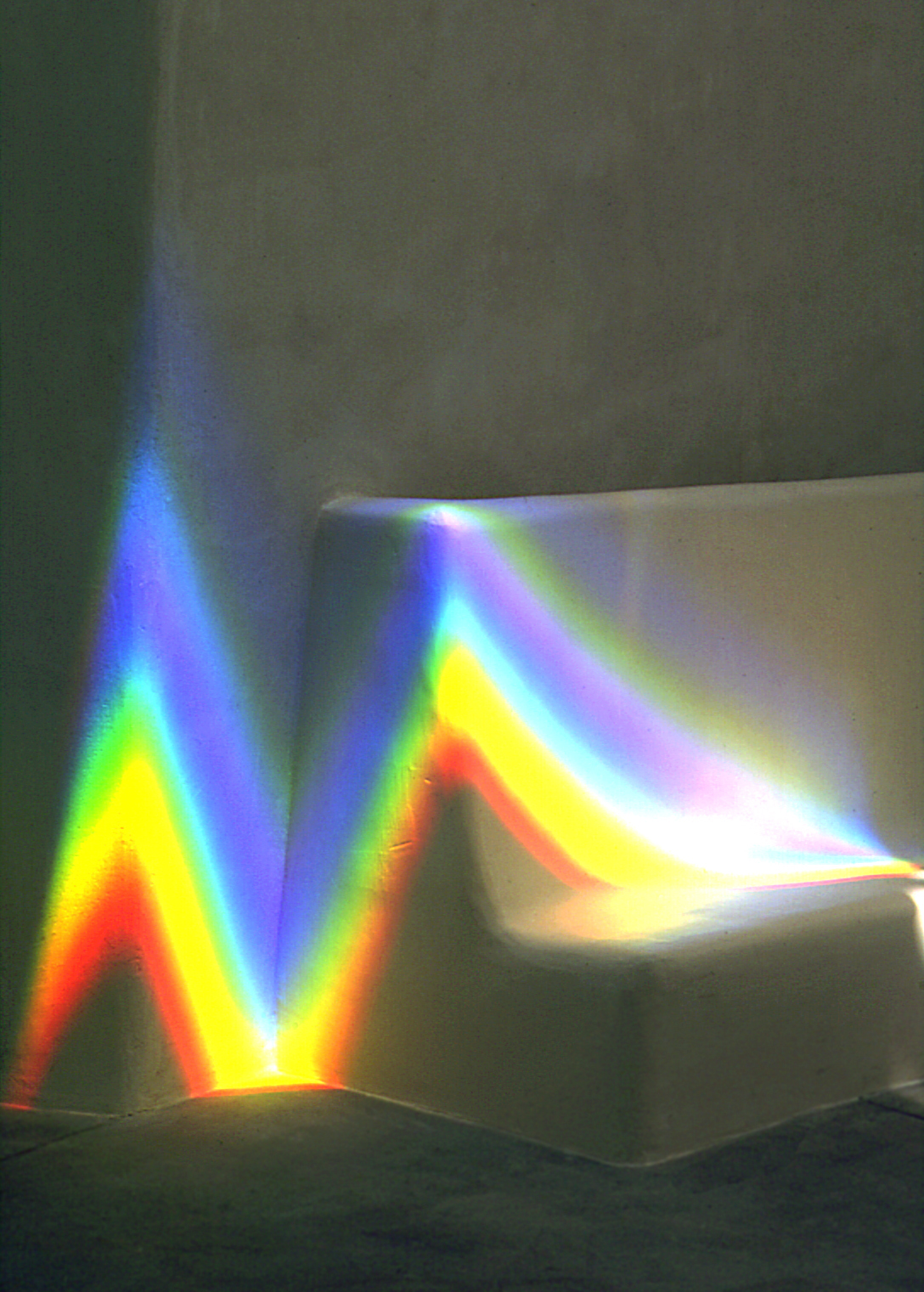 Loïc Malle and Salon 94 are pleased to present Charles Ross: Substance of Light, an installation of the artist's sculpture and conceptual work exploring the essence, beauty and natural power of sunlight, through prisms dispersing light and colors, and through solar burns. Solar burns are the opposite of the solar spectrum. Instead of dispersing sunlight into primal color through a prism, here, sunlight is focused through a large lens into a single point of raw power. In this work, Ross acts as catalyst, removing his "hand" from the work, setting up a process to create these works without the interference of a human "painter."
The show coincides with the publication of a book of the same title published by Radius Books, distributed by D.A.P. The monograph traces Ross' work from 1960 to the present.
Charles Ross' fascination with light, time, and the space of the stars has given life to a rich artistic career that includes a major earthwork, large-scale prism installations, sculpture, and painting with dynamite. From Star Axis, a vast architectonic earth/star work in the New Mexican desert, to his Solar Burns series made by burning wood panel monochromes with focused rays of the sun, Ross allows the natural patterns and forces of the cosmos to inform his work.
Salon 94 will show several examples of Ross solar burns, including 137 Solar Burns, each made in the time it takes sunlight to reach earth, 8 minutes, 19 seconds. Solar Burn Week, Libra (9/27/07-10/3/07), a group of 7 full day solar burn panels made during a one week period. Melancholia II: Durer's Magic Square x 4 is based on Durer's famous etching of the same name. In this work, each of the numbers is multiplied by four, and the resulting numbers correspond to the number of minutes of each solar burn.
Charles Ross: The Substance of Light is a comprehensive volume that covers over four decades of work. To commemorate the book release, a reception and panel discussion will be held at Salon 94 at 12 East 94th Street on Monday March 11, from 6 to 8PM. In addition to Ross, panelists include Virginia Dwan, legendary New York and Los Angeles gallerist who broke ground in the 1960s by exhibiting Ross and others at the forefront of earthworks and minimal art; curator and writer Klaus Ottmann, Director of the Center for the Study of Modern Art, and Curator-at-Large at the Phillips Collection; Philippe Vergne, curator, and Director of the DIA Art Foundation. Loïc Malle will serve as moderator. The monograph includes essays by Thomas McEvilley and Klaus Ottmann, as well as texts by Virginia Dwan, Anna Halprin, Michael Heizer, Steve Katz, Donald Kuspit, Ed Ranney, and Jean-Hubert Martin.
Charles Ross has created numerous permanent solar spectrum installations at sites worldwide, including The National Museum of the American Indian, Washington, DC; Meiji University, Tokyo; The Dwan Light Sanctuary, Montezuma, NM; The Harvard Business School Chapel; and The Year of Solar Burns, 1992, Chateau d'Oiron, Oiron, France. Most recently his work has shown at at MoCA Los Angeles; Reina Sofia, Madrid, ZKM / Museum of Contemporary Art, Karlsruhe, Germany; Ludwig Museum, Koblenz, Germany; Palazzo Fortuny, Venice. His work is in many collections including Centre Pompidou, Paris; Whitney Museum of American Art, NYC; Lannan Foundation; LACMA; Walker Art Center, among others. Ross has received numerous awards including a grant from the Andy Warhol Foundation and a Guggenheim Fellowship. Ross is represented by Loïc Malle Fine Arts, Paris.
Show Full Text
---