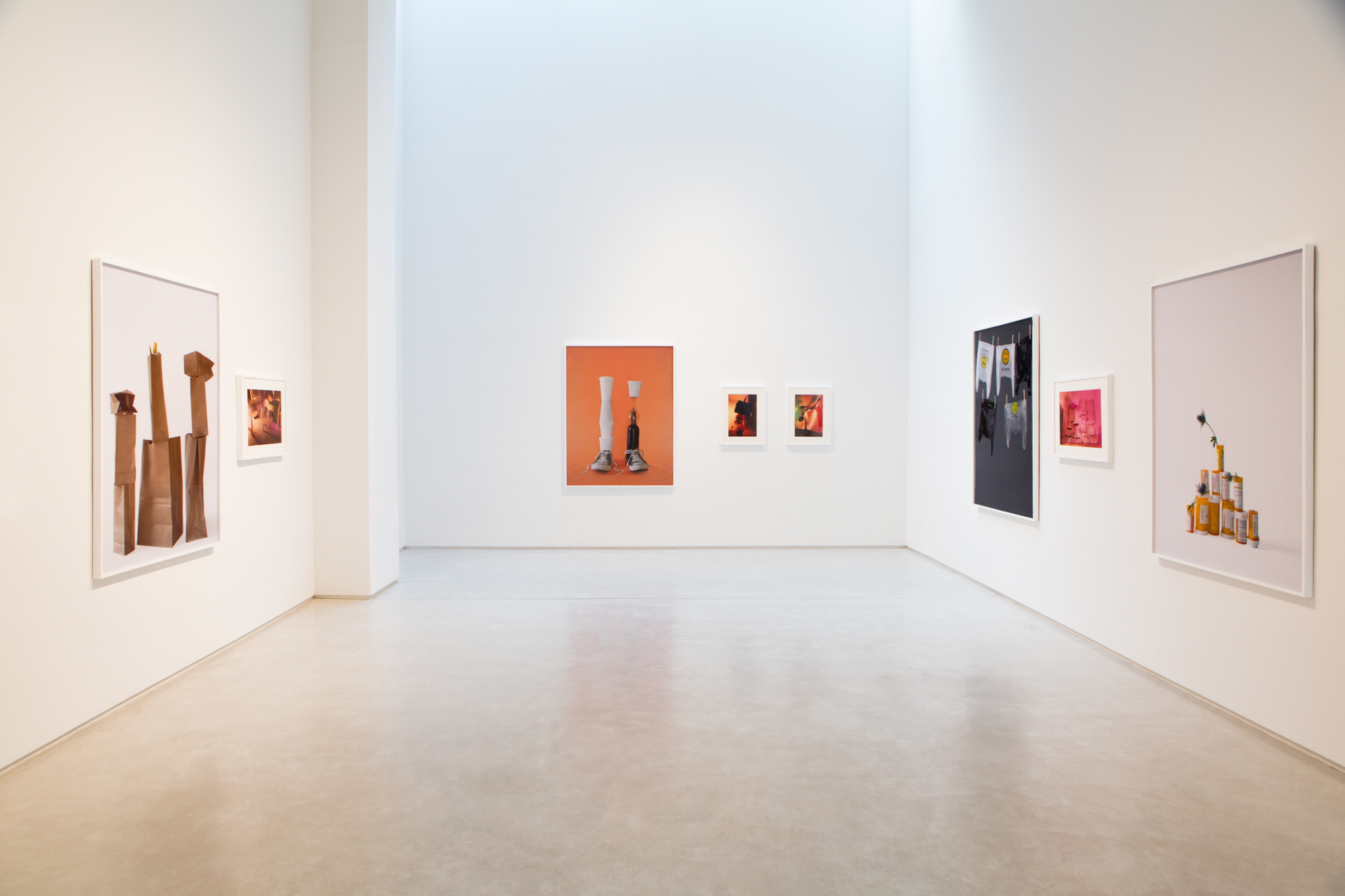 ​Salon 94 Bowery is pleased to present Still Lives: Jimmy DeSana and Hanna Liden, a pairing of DeSana's iconic 1970's and early 80's Suburban series with Liden's new studio photographs, a continuation of her sharply arranged compositions. DeSana and Liden never met, nor are they contemporaries. But their photographic practices thrive on the interplay between a fast-paced downtown subculture with a rigorous studio practice. A study of balance, their sleight-of-hand and still life play connects them. And, both are masters of the unexpected and experimental technique in the color photograph.
DeSana, who first emerged in New York's gritty 70's downtown scene, embarked on his most emblematic photos, working outside of his more typical scenes of bondage and portraits shot in proto-punk clubs. Traveling to suburban Connecticut, he brought his staging of this subculture with him. DeSana arranged his naked subjects in various precarious poses, intertwined with everyday objects- all lit with gel-covered tungsten lights. Rather than constructing a space, the suburban house- with its bedrooms, living room and backyard pool, became the site to examine stereotypes and gender. Drawn partly from his own experiences growing up in the American South and his years working on Submission-which highlighted orchestrated S&M practices, DeSana continued pushing the limitations of the human body, shifting his focus further to the body as a non-erotic, non-individualized object, or prop.
Travis Jeppesen aptly writes "Jimmy DeSana believed that the human body was every bit an object as, say, a toilet or a chair. Blend together, mix up the legs of a table, legs of a chair, the bare legs of a person and see what you get." Identities in his images disappear, becoming jerry-rigged objects; a face is obstructed by a large handbag or capped with a TV. The compositions are bathed in unnatural shades of vivid, colorful light, casting uncanny color blocks behind the twisting naked figures wearing domestic objects. His red, green and orange lens pulls us into the privacy of a suburban middle class, revealing a murky and surrealist mash up where a four legged human cavorts on wall-to-wall carpet.
Since the late 1990's Swedish-born, New York based artist Hanna Liden has made intimate tableaus using disarmingly blank ingredients: black umbrellas, plastic "Have a nice day" deli bags, work shoes, bodega flowers, etc. Her recent photographs extend her deadpan configurations with such objects, but now with a heightened level of concentration, where objects are animate, flirting with one another in ingenious ways. Liden has become an object balancer and puppet-master; in one photograph for example, a yellow tulip peaks out of a crisp brown paper bag as if an ingénue on set. Stacks of prescription pill bottles spew melancholic allegories, while another mise-en-scène delivers a dryly comic blow. Here, Liden's chosen props – sneakers, used drink containers, empty glasses and well-stocked pill bottles– are all intentional. Nevertheless, her images evoke the sort of provisional assemblages that spring from absent-minded, in between moments, like peeling a label from a bottle or stacking random contents on a table until they tumble. They are measures of her studio time, her romances, disappointments and New York's rainy days.
By the 1980s, DeSana became increasingly affected by the cultural changes of the emerging HIV/AIDS epidemic. DeSana himself died of AIDS-related illnesses in 1990 at the age of 40. Ultimately, DeSana produced an extensive oeuvre that not only encompassed the complex emotional registers of sexuality and the joys and uncertainties of an underground world, but also the outward appearance of the American middle class. His work has been shown widely including the Times Square Show in New York, New Wave at MoMA PS1, the New Museum's East Village USA show, Jimmy DeSana: 101 Nudes at White Columns, New York, and in Greater New York at MoMA PS1 in 2015. An Aperture monograph of the Suburban photographs is also available for sale at Salon 94 or through Aperture Foundation.
After studying at Parsons School of Design, Liden made her way into the New York art scene in the mid-2000s with a series of photographs taken in the pastoral landscape of her homeland. Her work was previously exhibited at Salon 94, alongside friend and fellow artist Nate Lowman. Other exhibitions include Maccarone, New York (2014), Gewerbemuseum, Winterthur, Switzerland (2010), Palais de Tokyo, Paris (2009), Museo d'Arte Contemporanea, Rome (2008), and the 2006 Whitney Biennial, Whitney Museum, New York.
Show Full Text
---