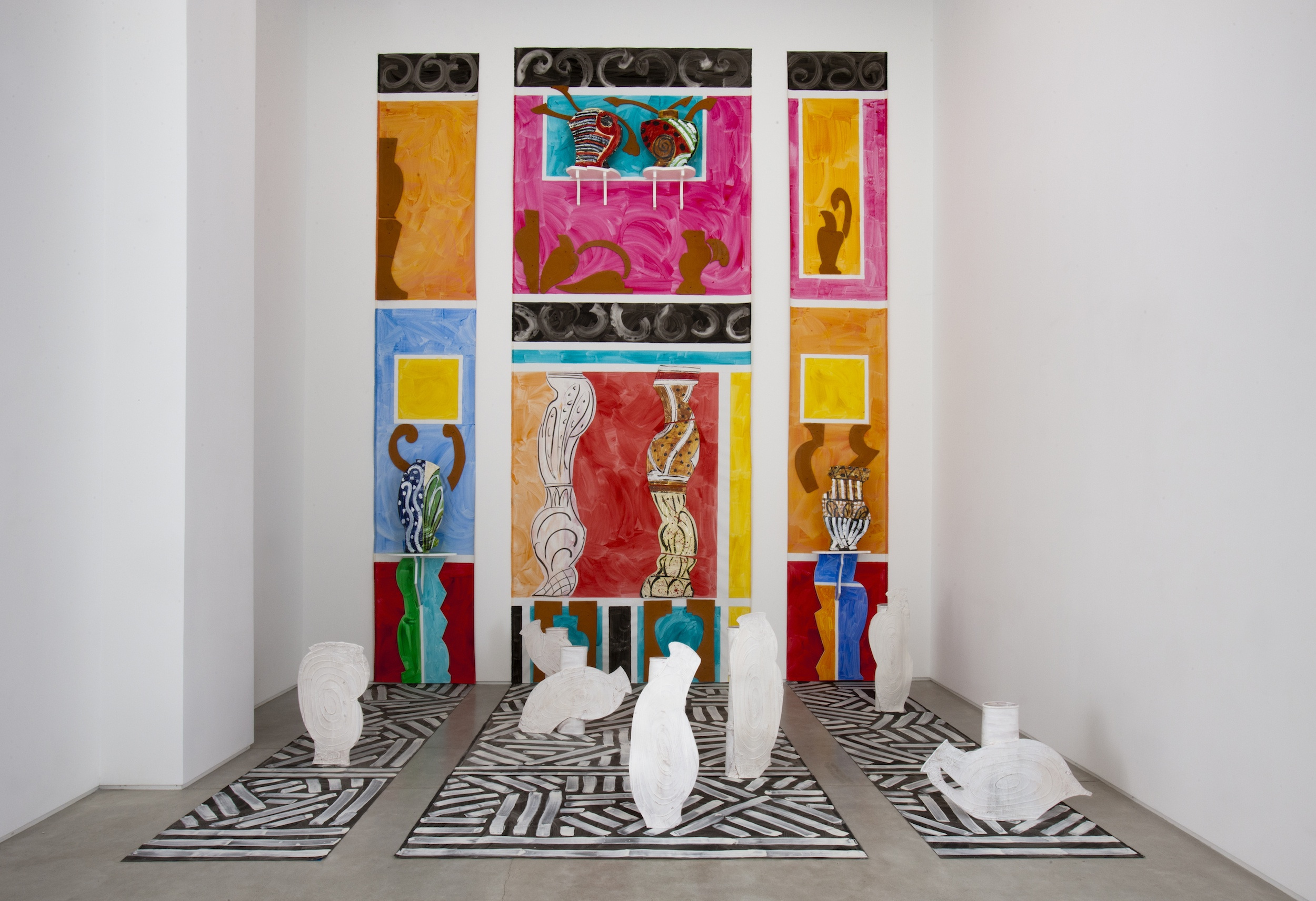 In her debut exhibition at Salon 94 Bowery, Betty Woodman presents her monumental Roman Fresco / Places and Pleasures, originally created for and exhibited at the American Academy in Rome, Italy in 2010.
This work is her summa following a lengthy response to and interaction with classical art. For over 50 years Betty has lived and worked part of each year in Italy. The classical tradition is as fundamental to her work as Islamic decoration was to Matisse. For the past 10 years she has found inspiration in the dialogue between architecture and painting in Roman art, and in the importance of architecture as a subject for painting.
In this work Betty has investigated the strategies of hierarchy in Roman painting, a world of squares within rectangles, borders and friezes that yield paintings within paintings. She does not imitate appearances but constructs within the logic of classicism. Complex subject matter was an easy reach for Roman artists since a few narratives were repeated endlessly. It is simpler yet for Woodman. The vase image is for her the perfect subject for sculpture, as well as for painting. But the character and expressiveness of the vase is, in her hands, vast in range, comic, seductive, solemn, witty with the odd fact that it always remains only and always a vase.
Woodman's work was the subject of a major retrospective at the Metropolitan Museum of Art in 2006. It is in the collections of over 50 museums. Her one-person exhibitions include the Stedelijk Museum, Amsterdam; the Gulbenkian Museum, Lisbon; and the Musee des Arts Decoratifs, Paris among many others. Woodman has been the recipient of honorary doctorate degrees from the Rhode Island School of Design, the Nova Scotia College of Art and the University of Colorado.
She lives with her husband, George Woodman, dividing the year between studios in New York City and Antella, Italy.
Show Full Text
---