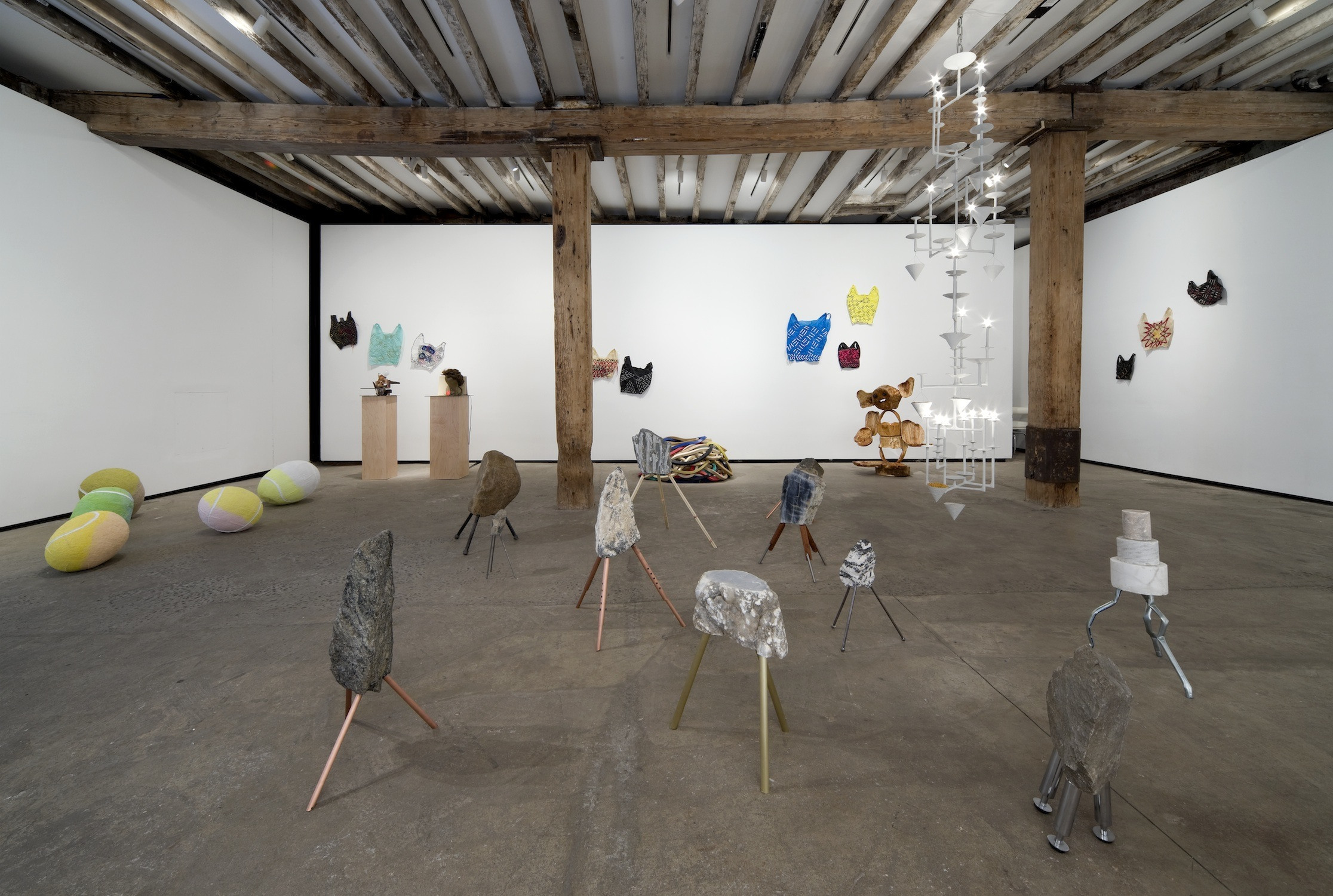 Rock Garden
Group Show
December 16, 2009–January 16, 2010
Salon 94 Freemans
Salon 94 is pleased to present "Rock Garden," a group exhibition featuring the work of Benjamin Valenza, Josh Blackwell, Pae White, Ida Ekblad, David Renggli, Paula Hayes, Martha Friedman, Olaf Breuning, Kueng Caputo and Christian, all presented around a new design for the gallery space by Takeshi Miyakawa. Zen Buddhist rock gardens, or Karesansui gardens represent abstract landscapes also known as "mind-scapes." The disparate works in this show share a contemplative spirit, creating an improbable coherence. Takeshi Miyakawa (born 1962, Tokyo, lives and works in New York) has created a new front desk structure for the gallery from plexiglas boxes, playing with the translucency of the material and allowing the boxes to be used at will for art display and storage. Benjamin Valenza (born Marseille, 1980, lives and works in Lausanne) presents a group of legged stones that are both austere and anthropomorphic. The works are a meditative practice for the artist, while the result is a riff on the philosopher's stone.
Paula Hayes (born 1958, Concorde, MA, lives and works in NY) has created crystal-filled glass bowls, each a strange and inviting lunar landscape. Martha Friedman (born 1975, Detroit, lives and works in New York) contributes a mound of oversized handcast rubber bands, an extension of her interest in finding the abstract and strange within the mundane.
Deeply influenced by Zen Buddhism, Olaf Breuning (born 1970, Schaffhausen, lives and works in New York) is known for his use of tchotchkes as raw material for his photographs and sculptures. For this show he has created several small creatures to inhabit the garden. Additionally, a strange high-heeled snake by Christian Holstad (born 1972, Anaheim, lives and works in New York) will hide in the garden.
Unicorno a long white epoxy chandelier by Pae White (born Pasadena, 1963, lives and works in Los Angeles) hangs above the 'garden'. First exhibited at this year's Venice Biennale, the chandelier doubles as a bird feeder.
Josh Blackwell (born New Orleans, 1973, lives and works in New York) subtly embroiders old plastic bags, turning litter into art in an updated 'Nouveaux Realistes' manner. The bags hang on the walls as if floating in the air.
Ida Ekblad (born 1980, Oslo, lives and works in Oslo) contributes an improbable chair, created impulsively while walking around London last fall. The art/design duo Kueng Caputo (founded in Zurich, 2005) contribute hand made 'low res' copies of design originals. David Renggli (born 1977, Zurich, lives and works in Zurich) present assemblages of every day objects into 3D still lives that he has aptly calls "studies for enlightenment."
Show Full Text
---