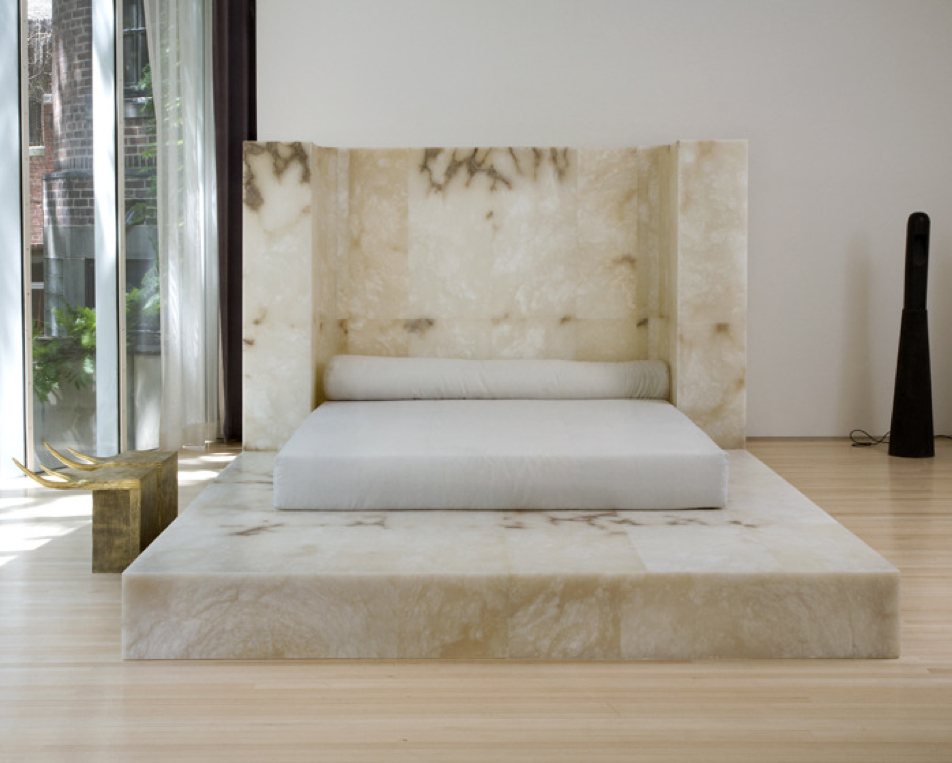 Salon 94 and Rudy Weissenberg are pleased to present a bedroom interior by renowned designer Rick Owens. For the exhibition Owens will transform the gallery into a contemporary sleeping quarter based in part on his own Parisian home.
Pavane for a Dead Princess, Owens' first presentation of furniture design in the United States, is inspired by French composer Maurice Ravel's composition for solo piano written in 1899. Owens' singular vision as a designer fuses archaism with modernism, brutal beauty with uncompromising luxury. As in his pioneering fashion design, Owens juxtaposes the most basic materials with the most extravagant: leather and cotton in a biker jacket, for example, or alabaster and plywood in his new bedroom, Pavane for a Dead Princess. Owens' previous furniture has incorporated resin, horn, marble, bronze, leather, concrete, plywood, and cowhide. His scale shifts from broad and muscular works to lean and curved ones. Some surfaces are left untreated—rough to the touch—while others are polished or covered in fur. Owens' work in furniture references a variety of sources including 20th century icons, Le Corbusier, Luigi Moretti, and Donald Judd. In addition, his concept for a total domestic environment echoes those championed by Jean Michel Frank and Pierre Chareau.
With Pavane for a Dead Princess, Owens has expanded his palette of materials to include Spanish alabaster. Owens has cut and assembled this rich, translucent material into a towering, curvilinear headboard above a low-lying bed, a monumental composition that dominates the room. Opposite the bed is a smaller elongated daybed combining wood, bronze and alabaster. Encouraging an intimate dialogue, Owens encloses the space in a lush, floor to ceiling sheared mink curtain, one of his signature cut and hand-sewn geometric "tortillons" fur pieces.
Born in 1961 in California, Rick Owens founded his own fashion label in 1994. In 2002 he won the Council of Fashion Designers of America Perry Ellis Emerging Talent Award. In 2007 he was awarded the prestigious Cooper-Hewitt National Design Award. His first furniture collection was shown in Paris in 2007 at Jousse Entreprise and subsequently in London in 2009. In addition to being a seminal figure in fashion design, Owens is a major new talent in furniture design.
Show Full Text
---