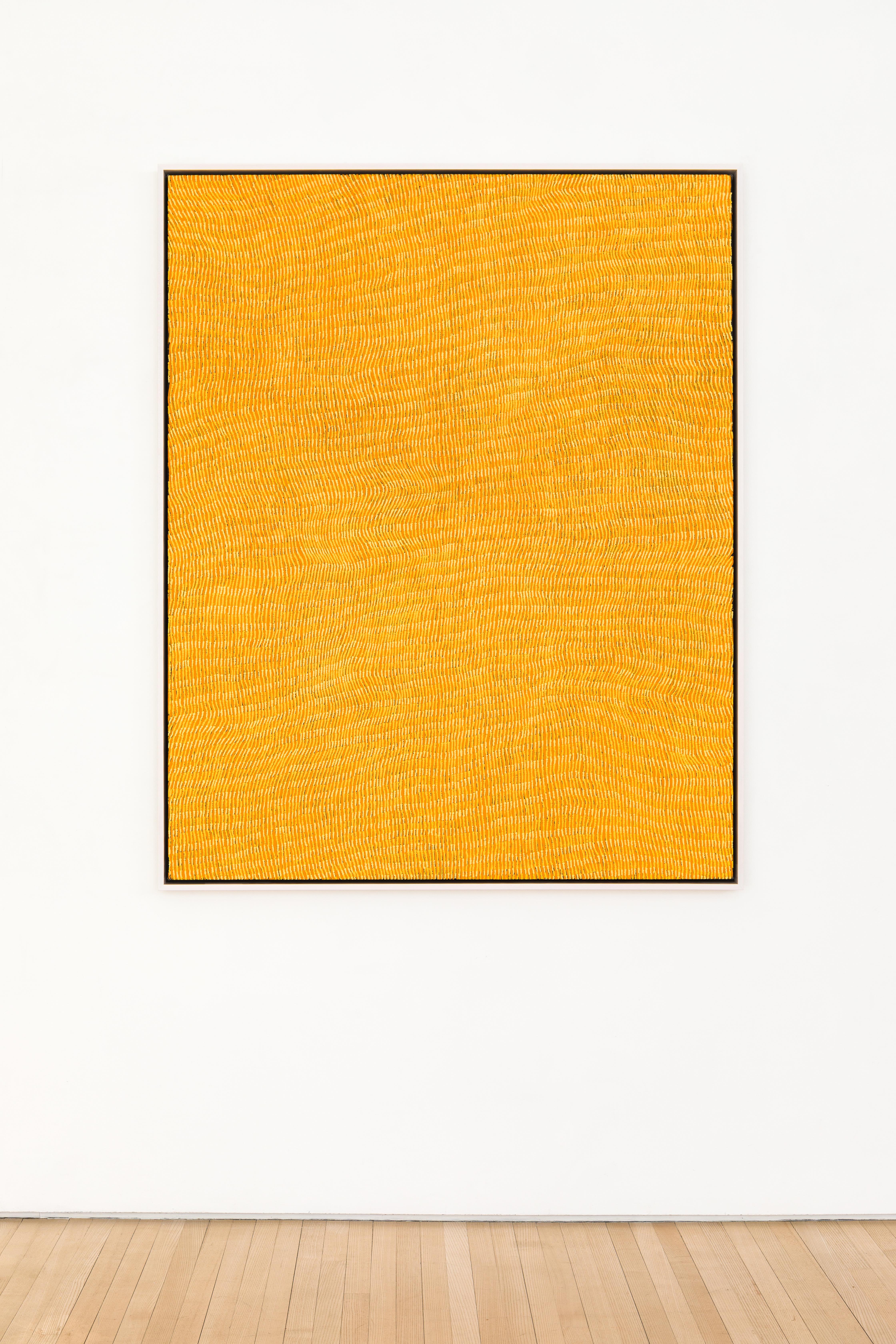 Outsider Art Fair
Alan Constable, Julian Martin, Mantua Nangala, Yukultji Napangati, Susan Te Kahurangi King, Warlimpirrnga Tjapaltjarri
January 28, 2021–February 07, 2021
Salon 94 hosts Semiotic Terrain: Art from Australia and New Zealand for the Outsider Art Fair alongside Andrew Edlin Gallery, Fleisher/Ollman, and Dutton. The presentation features Alan Constable, Julian Martin, Mantua Nangala, Yukultji Napangati, Susan Te Kahurangi King, and Warlimpirrnga Tjapaltjarri.

In the heart of the Western desert in Kiwirrkurra, Australia, siblings Yukultji Napangati and Warlimpirrnga Tjapaltjarri depict the land and sacred sites that their ancestors have traversed for millennia. Yukultji Napangati paints the land in association with her mother's and grandmother's Dreamings–oral histories, teachings, and philosophies passed on from generation to generation. Her pieces transpose nature into sinuous, undulating lines, sometimes interrupted by amoeba-like forms which alter the rhythmic totality of the composition.

Landscapes also appear to oscillate and move with visual energy in Warlimpirrnga Tjapaltjarri's dreamtime paintings. Tjapaltjarri's work corresponds to mythical stories of the Pintupi people and the formation of the Gibson desert in which they live, operating more as mnemonic devices than representations of narrative or visual memory.

Mantua Nangala's Dreamings are associated with the secret Tingari ceremonies at the site of Tjulna, located South-East of Kiwirrkura, and other sites. While this Tingari Dreaming is traditionally painted in black and white, Nangala uses colors that typifies the topography during the changing seasons, including the drought and flood cycles.

Alan Constable's clay cameras, binoculars and other optical instruments, which he has steadfastly produced since 1987, are rooted in a longstanding fascination with objects that see. A legally blind artist, Constable begins his work with a tactile investigation of the referent item before molding a representative sculpture through memory.

Since 1989, the self-taught artist Julian Martin has unerringly honed an idiosyncratic approach to abstraction through pastel drawings of totemic figures, jewel-like prisms and subtle variations on self-portraiture, all created through a highly selective palette. Martin's two-dimensional compositions are cleanly edged and boast an unusually pure matt surface, as well as feature a precise handling of line, form and color.

Although Susan Te Kahurangi King stopped speaking at the age of four, her prolific drawing practice distills observations of natural forms and popular culture in haunting images which defy interpretation. Whether through whimsical topographies of biomorphic shapes or mounds of compressed cartoon bodies, King's drawings in graphite, pencil, crayon and ink express a singular vision of the world around her.

Show Full Text