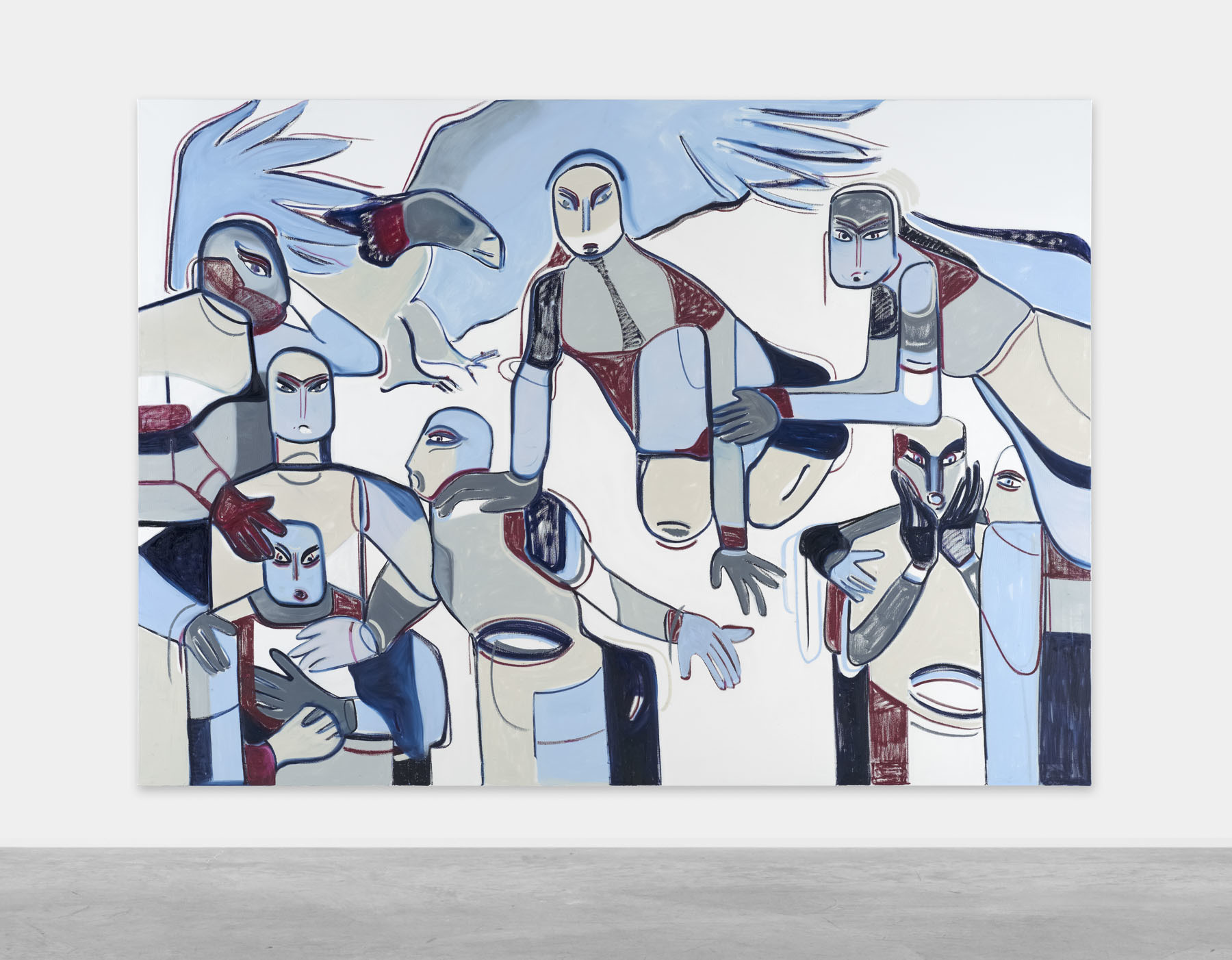 Gowend Garden
Melike Kara
September 12, 2019–October 25, 2019
Salon 94
Let's draw a line
Which curls up into herself

barely noticeable
And yet so wanted

Do you hear the scent count
Even and conscientious
The big wild tenderness
Blooming in the darkest rooms
an aftertaste.

- Melike Kara, 2019

Salon 94 is pleased to present Gowend Garden, an exhibition of new works by Cologne-based artist Melike Kara. This is Kara's first solo exhibition in the United States. A video work, Gowend, is projected onto windows in the gallery. It shows eight pairs of dancing feet, moving in unison. They perform multiple traditional Kurdish dances to the beat of a drum with a fluctuating rhythm, beginning slow, becoming faster and faster. Gowend is a word used to describe this type of dance, coming from the Zazaki dialect spoken by the artist's family. While the dances come from different communities and are not typically danced in sequence, the artist combines them in a gesture of representation. Exploring the reverberations of the generations of violence and persecution against the Kurdish people, Kara entwines these dances in order to represent the diversity of tradition and expression amongst Kurdish communities as a rich resource and source of connection. Projected onto the brightness of the windows, the movements become ethereal in their transparency, an idea, or a memory. Yet their transparency grounds itself through the unity of movement and strong relationship to sound. The rhythm allows the dancers to orient within time, making it possible to capture a moment together as something solid.
Video documentation of Gowend may be viewed at https://vimeo.com/364126119
Gowend Garden investigates methods of uniting the present. Drawing on trauma within Kurdish history, the collective loss of cultural violence and persecution, as well as two personal losses inside her family, Kara's works look at how identity affirms itself through community and connection. Large groups of figures, void of traditional identity markers, coalesce through posture, touch and a cohesive color palette. The connection amongst the figures is palpable, the belonging they share with one another creating a clear impression of identity, though gender, nationality, age, are invisible. Birds embrace groups of figures, move between them, emerge from bodies, and repeat across the surface of a canvas constructed from pants once belonging to Kara's grandmother. Like the dancers, there is a rhythm to the movement in the paintings, a beat that brings life into focus. Kara's works examine methods of asserting life, seeing the potential in the present moment to nurture care, connection and belonging.
- Marina Caron, 2019

Melike Kara (German, b. 1985) live and works in Cologne. Kara attended the Dusseldorf Academy of Art from 2007-2014 where she studied under artist Rosemarie Trockel. Her most recent solo exhibitions include A Taste of Parsley at The Yuz Museum, Shanghai (2018), New Work at Witte de With Center for Contemporary Art, Rotterdam (2019) and My Beloved Wild Valley at Arcadia Missa Gallery, London (2019). She is represented by Peres Projects, Berlin and Jan Kaps, Cologne.
Show Full Text
---