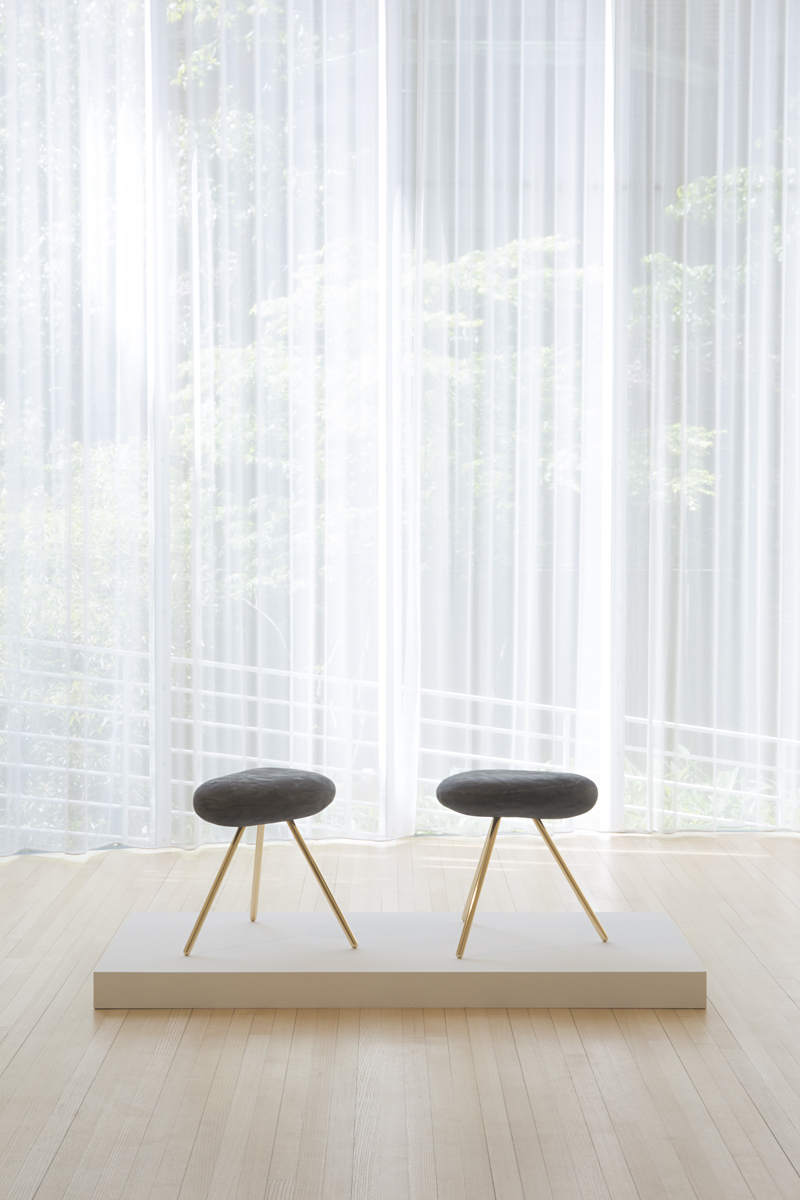 ARTEFACT
Martin Szekely
May 15, 2015–June 26, 2015
Salon 94
​Salon 94 is pleased to present the first US solo exhibition in twenty years of French designer Martin Szekely. In 1996, two years after his last exhibition in New York, Szekely declared a new foundational principle to his design and process: Ne Plus Dessiner, or Draw Nomore. His objects have since been underpinned by texts, engaging language throughout his work, from gestation through process. Draw Nomore is a removal of the self from complete authorship — acknowledging the various interpretations and sources of text. Distancing himself from objects, Szekely calls this process the "hard stones" – where the essence of the object, "origin, definition, implementation and destination" can be represented, rather than the author.
For this show, organized in collaboration with Blondeau & Cie, Szekely will present his new "stones" called Artefact. The quartzite tables are based on a small pebble the artist found on the beach in Normandy. The shape and texture of the small pebble was digitized, adapted to furniture scale, and then carved by a machine to an identical form from a hollowed block of stone. The surfaces sit on slender gold-plated tripod legs. Connecting the work to language, an artifact is a man-made object that has cultural or historical significance. An artifact is not naturally present, but a result of investigative procedures and human craft. The coffee table and side tables of Artefact mark Szekely's first direct and physical reference to nature. The works give material form to the visual and tactile memories of a place – linking reflections of the past to moments of inspiration.
Szekely's project engages raw data in order to reveal the essence of objects – what lies beneath the surface. Through contemporary materials, techniques, and technologies, Szekely distills furniture to its stripped nature, fundamental presence without superfluity, given a multiplicity of use and meaning. His furniture carries commanding and delicate balance, bringing an object to the point of where there is nothing left to add or subtract. As many Modernist masters including Jean Arp, Constantin Brancusi, and David Smith bring the material to its essential form, Martin Szekely uses material to grasp the essence of the object.
Timed with this exhibition, Salon 94 will present Szekely's MAP table in the gallery's stand at Frieze New York, May 13-17. For the artist's MAP series, square and rectangular modules in gold, black and bronze anodized aluminum contain a formula which allows for the shifting of shape, color, scale and variation within a framework of elegant and elemental units.
This is Szekely's first exhibition at Salon 94. Szekely's last exhibition in New York was at Neotu in 1994. In 2011, the Centre Georges Pompidou in Paris presented a major retrospective titled Ne Plus Dessiner. A comprehensive catalogue of work from 1988 through 2010 was published for the occasion by JRP Ringier.
Born in 1956, Martin Szekely lives and works in Paris. He created his first collection, the Pi furniture line, in 1982. Its sharp and graphic profile brought considerable recognition upon presentation of the work in Paris in 1985. Since then his work has been divided between experimental limited editions of furniture and objects, and industrial, large-scale public commissions. He has had exhibitions with Galerie Kreo in Paris and Marc Blondeau in Geneva. His work is included in the public collections of The Museum of Modern Art New York; the Centre Pompidou, Paris; MUDAM, Luxembourg; and the Victoria & Albert Museum, London, among others.
Salon 94 is located at 12 East 94th Street between Madison and Fifth Avenues. The gallery is open Monday through Friday 11 am – 6 pm. For more information please call the gallery at (212) 979 0001 or email info@salon94.com
Show Full Text
---