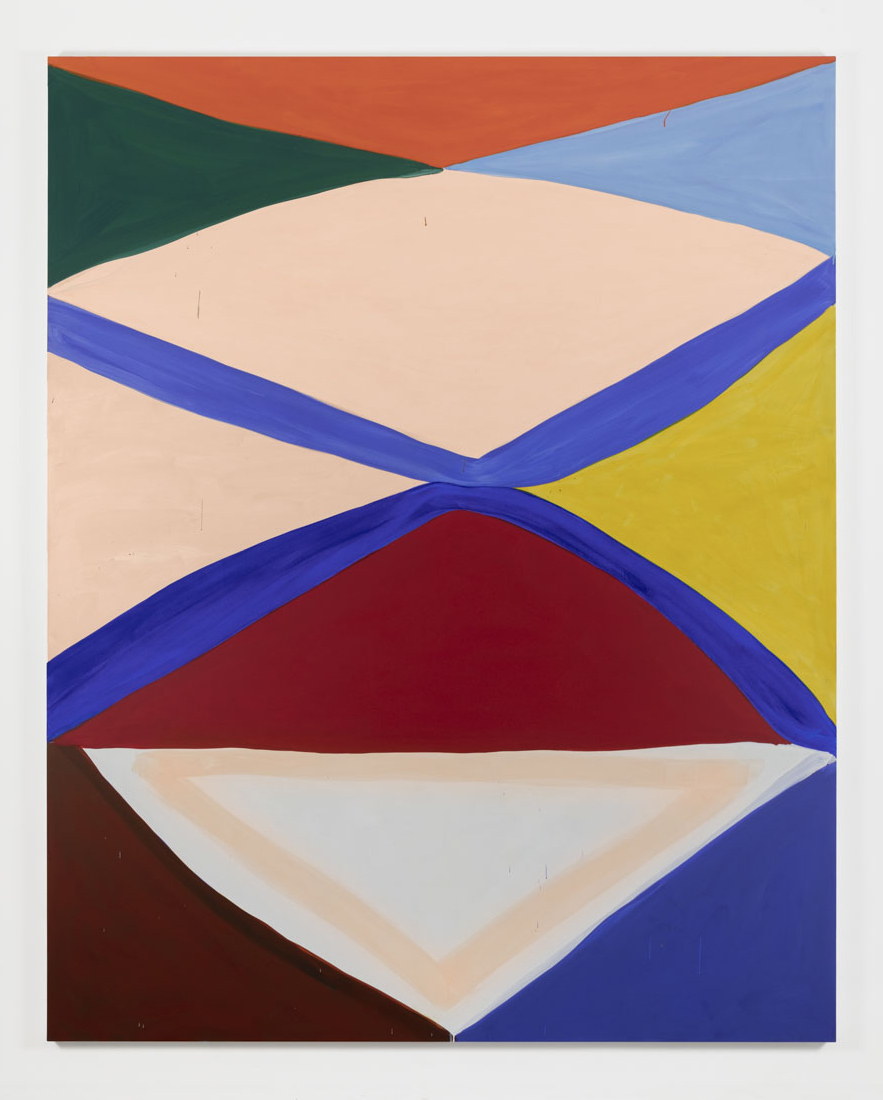 Anemones
Marina Adams
May 03, 2019–June 22, 2019
Generator of shapes and rhythmic gestures
like going for a walk in the Alhambra, the pearl
of essential convergence set in tessellated emerald and cobalt tiles

- Excerpt from Anemone for Marina by Norma Cole

For her second exhibition at Salon 94 Bowery, Marina Adams will present five monumental new paintings whose bold vibrant colors and eccentric shifting compositions expand on the studio practice that she has developed for over a decade. A continuum rather than a rupture, these paintings are confident expressions of what happens as line and color interact. Her resolute, almost architectural contours become the armature on which large stretches of color coalesce, disband and breathe, revealing a powerful pulsating energy that courses just below the surface. Adams's paintings are dynamic. Yet, they are also intimate. It is this intimacy, one born out of rhythmic relationships between color and form, and to her self-conscious co-mingling of heroic scale with un-fixed mark-making, that is central to their impact. It draws the viewer into the constructed world of "art" and invites the eye to hover in the unchartered spaces in between.

Rising just over eight feet tall, Mambo, along with two other works in the exhibition, Cheops and Dinah's Mixed Emotions, is Adams's largest painting to date. It is composed of three swells of color – forest green, periwinkle blue and finally a deep ultramarine – that climb from the base of the painted white surface to the top edge of the canvas, creating the impression of a fleeting moment of equilibrium. In Cheops, titled after the Great Pyramid of Egypt, a repeating structure of alternating triangles draws our eyes in and out of the composition in a syncopated manner giving the work a sculptural quality.

This underscores the development in Adams's work, which is indicative of how a rigorous non-referential painting practice evolves. It does not involve radical stylistic change, but rather constant recalibration of existing motifs, materials, and approaches. As such, Adams's new work is readily recognizable. Her aesthetic is distinctive, without being branded. This is in part because Adams's vivid color palette is very much her own, and is correlated to her sweeping and swooping language of curves, arabesques, and other organic geometries as seen in Another Kind of Memory, whose partitioned planes of purple, navy, blue, tan, and white rotate around a star-like central axis.

There is a radical stance in Adams's insistence on her work being forthright but also multidimensional. She lays bare her paintings' inner workings and imperfections – what she refers to as "leaving her tracks" – in order to make her work accessible without being reductive. In fact, it is in their insistent idiosyncrasy – the haphazard drips, the sometimes awkward color combinations, the partially obscured outlines that wander off the picture plane - that calls attention to their aberrant artifice and to the moment when resistance and transformation collide.

In this we can see the legacy of the aspirations of the historical avant-garde, in the work of artists like Hilma af Klint, Sonia Delaunay, and Piet Mondrian, who embraced the elemental, accessible, and non-hierarchical potential of abstract form. Yet, for Adams, her compositions are more outward looking and physical, sampling motifs from textile design, architecture and postmodern poetry. By emphasizing the formal terms of her work even more strongly, Adams is doubling down on the potential for her painting to serve as a dynamic space of joy and resistance amidst all the worldly turmoil (not unlike Matisse's famous description of his paintings as "armchairs for the weary") as well as powerful beacons emphasizing their own undulating unfixity.

The exhibition will be accompanied by a new catalogue surveying a decade's worth of paintings by the artist.

Marina Adams was born in Orange, NJ in 1960. She lives in Manhattan, and maintains studios in Greenpoint, Brooklyn and Parma, Italy. Past solo exhibitions of her work include Soft Power at Salon 94, NY in 2017; Galerie Gris, Hudson, NY in 2013 and 2015; Marina Adams: Coming Thru Strange at Hionas gallery, NY, 2013; Marina Adams at CUE art Foundation, NY, 2008, and The Nature of Line, at Magazzino d'arte Moderna, Rome, Italy, 1997. Her work was featured in Making & Unmaking: An exhibition curated by Duro Olowu at the Camden Arts Centre, London, UK (2016). Publications include collaborations with poets Norma Cole, Actualities, (Litmus Press, 2015) and Vincent Katz, Taormina, (Kayrock, 2012).

Salon 94 Bowery is located at 243 Bowery between Stanton and Rivington Streets. The gallery is open Tuesday through Saturday 11 am – 6 pm. For all press inquiries, please contact Sophie Wise | Company Agenda | sophie@companyagenda. com | 212-358-9516.
Show Full Text
---