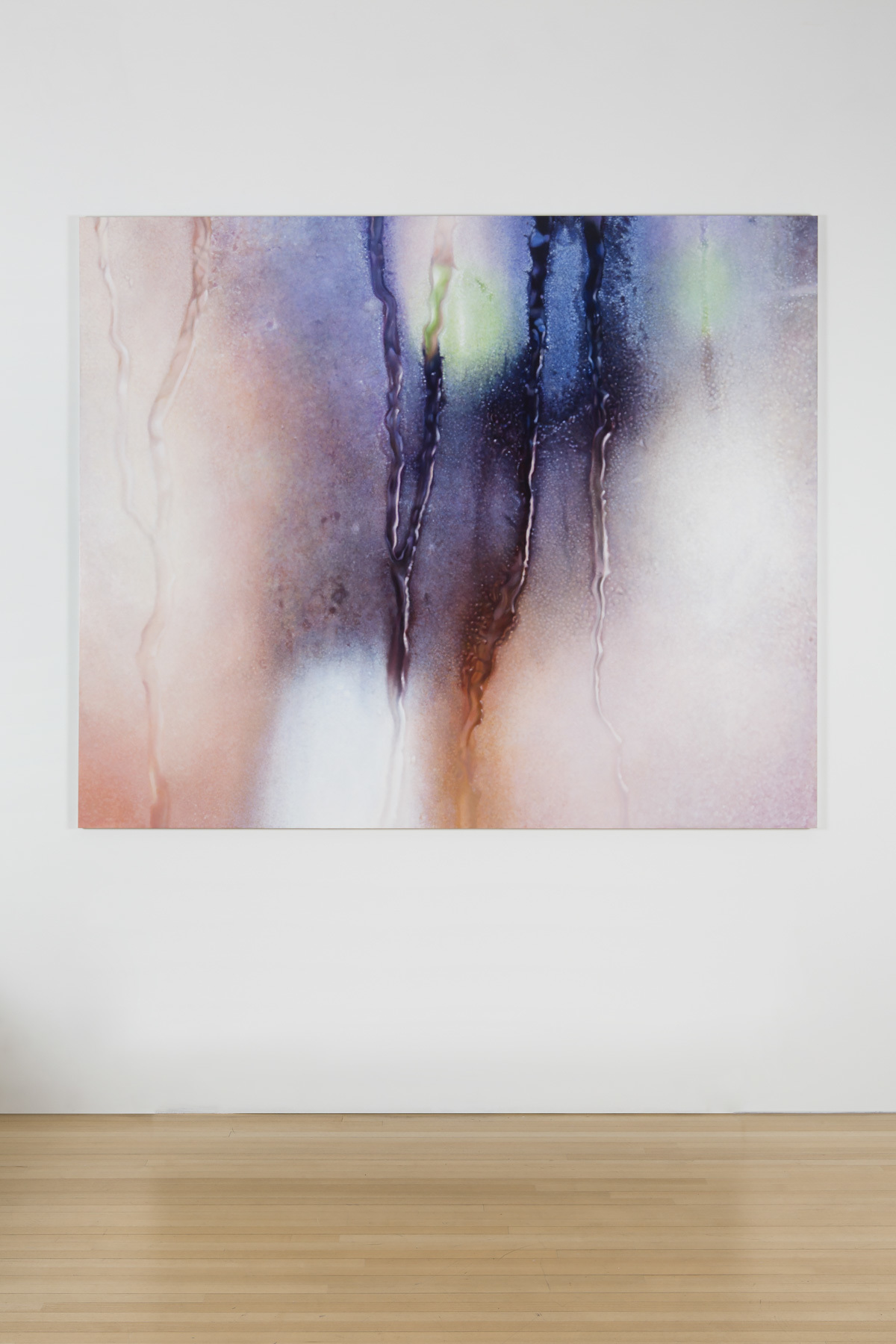 Marilyn Minter, renowned for her contemporary painting, photography, and videos takes on the classical theme of the bather in a new series of large scale paintings, her fourth exhibition at Salon 94. Reprising the 19th and early 20th century realism of the avant-garde, Minter mines the female nude and the gaze -- a period of drastic change ushered in by Édouard Manet's Olympia (1863) and Gustave Courbet' s L'Origine du Monde (1866).
For a Playboy commission in 2014, Minter photographed a diverse group of models up close, their pubic hair au naturel. After the magazine's editors rejected her "bush" editorial, publishing company Fulton Ryder stepped up and published all 69 photos. Plush, the resulting artist book, celebrates the female nude without any digital retouching. Minter used this publication as a starting point for this new series of paintings. While the advertising and fashion community uses Photoshop to remove perceived flaws, Minter employs it as a drawing tool, combining elements from many negatives into a newly constructed complex image subsequently used as source imagery for her paintings.
Making a case for the beauty of women's natural bodies, Minter re-photographed models from her Plush shoot using a steamy pane of glass as a veil between the model and the camera. Thus obscured, the colors of flushed, dewy skin are illuminated. In this way, her paintings reveal intimate moments that evince Minter's ability to expose unseen flashes from women's private lives. Here, Minter's subjects pose frontally and self-confidently, as empowered objects of desire. An advocate for women's reclamation of their own imagery and sexual agency, Minter says, "I think my paintings have less to do with so-called porn and more to do with freedom."
Popular culture and cinema created a psychological trope centered on the shower – from Hitchcock's Psycho to porn. Here, Minter obliterates the specificity of the room. Her elegant handling of steam conjures Saul Leiter's misty photographs, or J.M.W. Turner's fog. Paintings in enamel are finished using fingertips to soften the edges and eliminate traces of the brush. The highly saturated surfaces radiate with translucent layers of color. Inches away from the surface, the steam vaporizes and we are left with Minter's signature marks and dissolved pigment, not unlike Gerhard Richter's out-of-focus portraits and candles. Operating between abstraction and figuration, Minter wrestles with classic modern painting themes, and Impressionism–from Edgar Degas's awkward bathers, Georges Seurat's pointillist nudes, or Pierre Bonnard's macabre bathing nudes.
A new video created for the gallery's large sidewalk screen depicts a woman spelling Minter's name in a frosty window, a playful nod to the allure of advertising that Minter both parodies and extols.
Born in 1948 in Shreveport, Louisiana, Marilyn Minter lives and works in New York City. Minter has exhibited extensively in museums and galleries internationally. These include the Museum of Modern Art, New York, NY; Fotomuseum, Winterthur, Switzerland; CAC, Cincinnati, OH; The Museum of Contemporary Art, Cleveland, OH; La Conservera, Murcia, Spain; San Francisco Museum of Modern Art, San Francisco, CA; Museum of Contemporary Art, San Diego, CA; The Kitchen, New York, NY; SITE Santa Fe, NM; The 2006 Whitney Biennial, New York, NY.
Pretty/Dirty, a retrospective of Minter's work opened at the Contemporary Arts Museum Houston in 2014 before touring to the MCA Denver, and the Orange County Museum of Art, CA. The Brooklyn Museum will present Pretty / Dirty from November 3, 2016 - April 2, 2017. A catalogue of Pretty/Dirty, published in 2015 by Gregory R. Miller, with contributions by Bill Arning, Elissa Auther, Nick Flynn, K8 Hardy, Richard Hell, Colby Keller, Eileen Myles, Jenni Sorkin, and Neville Wakefield, along with interviews of the artist by Catherine Morris and Linda Yablonsky, is now available.
For all press inquiries, please contact Sophie Wise | Company Agenda | sophie@companyagenda.com | 212-358-9516.
Show Full Text
---