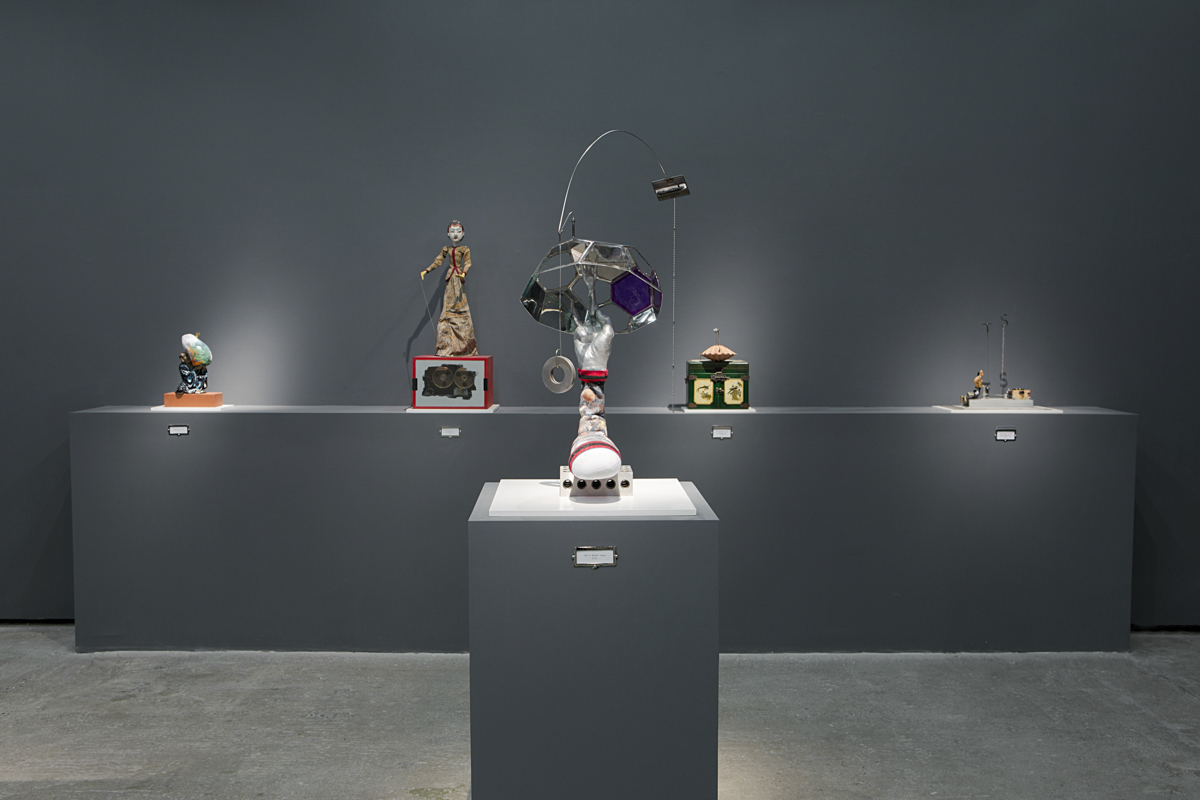 ​Jon Kessler presents an exhibition of small kinetic sculptures entitled Jon Kessler's Gifts. The show includes sculptures that Kessler has made as gifts to close friends and family, commemorating birthdays and weddings over the years. Borrowed-back gifts are shown alongside new gifts that offer lyrical objects playing with ideas of balance, mechanics, customization, and personalization. Kessler is known for massive installations that comprise hundreds of screens and cameras, walls of TVs, interactive feedback and often an immersive assault on the senses. Jon Kessler's Gifts, in contrast, is an exhibition of personal and idiosyncratic arrangements on an intimate scale.
Many of the sculptures use objects of other cultures (a Chinese soup spoon, a Buddha figurine) like the '80s and '90s works of Jon Kessler's Asia that sampled chinoiserie paired with lights and motors in various states of connectivity. Jon Kessler's Gifts also incorporate found tchotchkes (a glass egg with glitter inside, a small bird skeleton), tools and construction elements (a wrench, a vise, an I-beam) married to handmade pieces (like plaster-cast fingers and a chicken's foot cast in aluminum). In the work A Horse and 2 Fishermen Walk into a Bar, a horse figurine is paired with two differently sized fisherman – all found kitsch objects from New York City's Chinatown. All different sizes, they hang from a metal framework connecting them to other objects with clever juxtapositions that are counterbalanced by a weight. The delicately-balanced system moves and shifts slightly, as if to mark the small variations in the personal relationship to objects. Kessler re-works the materials of jewelry-making, in this case molded silver, with sly reference to fine jewelry as the conventional store-bought gift. Other sculptures, like Twist My Arm, incorporate purchased brass chains strung through an abstract cloud of pounded brass.
Many of the objects in Jon Kessler's Gifts incorporate humorous and interactive elements. An introduction to a joke in one piece, the fishermen's lines each hold the next object, a take on the Russian nesting dolls. In Titty Twister, a Moog synthesizer is the base for a headless femaletorso, and the plaster body's silver nipples are the control knobs on the embedded instrument. This work combines analogue mechanisms with an electronic system, hitting upon the divide of handmade versus digital that Kessler explores and connects. The sculptures are succinct systems with whimsy and synergy, though their independent parts are not fastened. Representative of his practice at large, Kessler's personal, poetic and mechanical DIY networks are built from balance, proportion, stability, weight, and counterweight.
This is Jon Kessler's second solo exhibition at Salon 94. Kessler's most recent large-scale kinetic multimedia installation The Web was exhibited at the Swiss Institute, New York in 2013 and traveled to Museum Tinguely, Basel last year. Kessler's first solo exhibition at Salon 94 was The Blue Period in 2012. The artist's work is in the collections of The Museum of Modern Art, New York, The Whitney Museum of American Art, New York, The Walker Art Center, Minneapolis, Museum of Contemporary Art, Chicago, Museum of Contemporary Art, Los Angeles, and Milwaukee Art Museum, among many others. Jon Kessler plays guitar in the art band the X-Patsys that will perform in the Palazzo Grassi as part of the Venice Biennale 2015.
Salon 94 Freemans is located at 1 Freeman Alley off of Rivington Street. The gallery is open Tuesday through Saturday 11 am – 6 pm. For more information please call the gallery at (212) 979 0001 or email info@salon94.com
Show Full Text
---