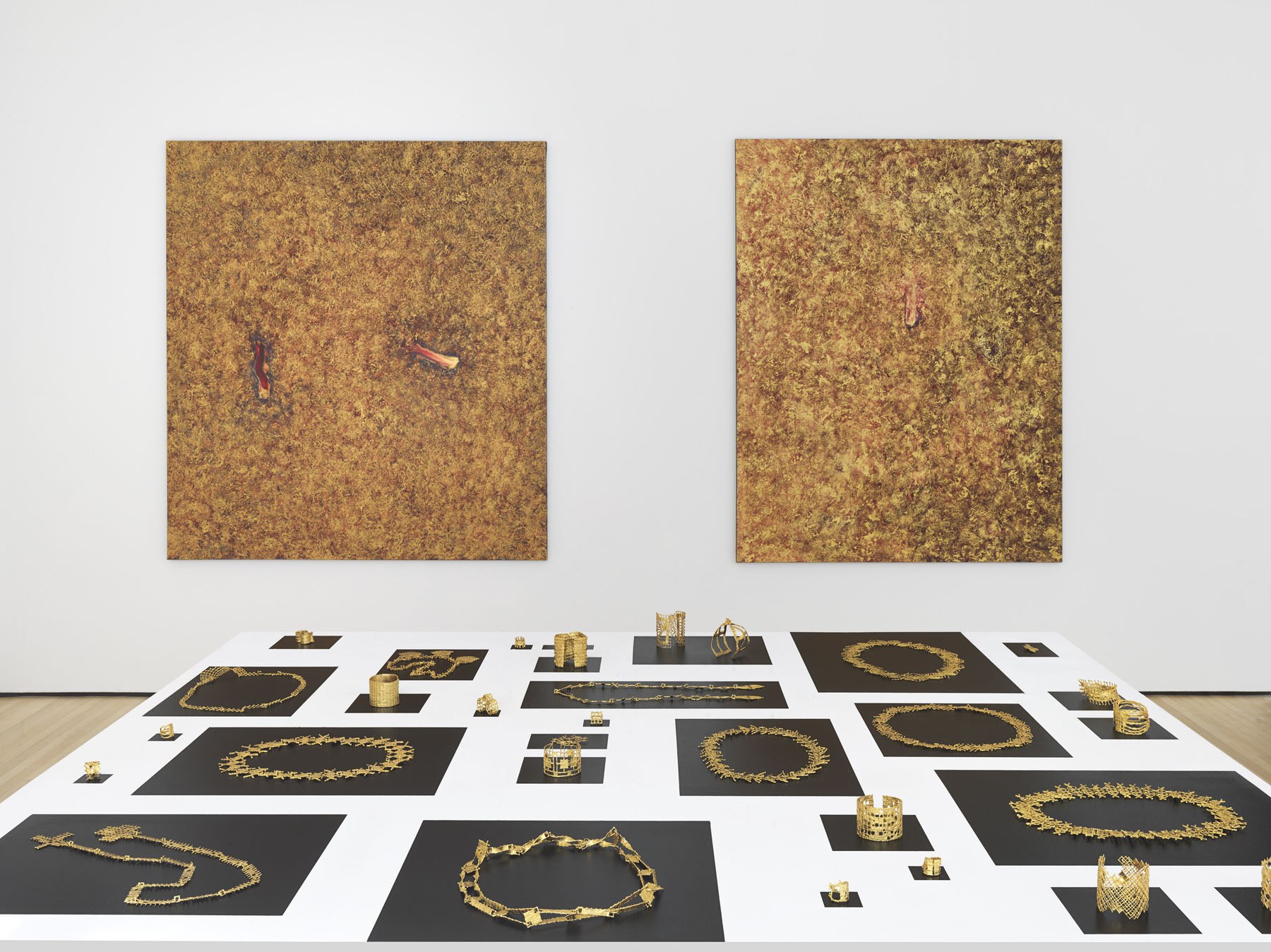 Gold
Lucas Samaras
September 19, 2017–November 03, 2017
Salon 94
The farther you go into your past, meaning as close as possible to your birth, the more impossible it is to remember anything. However, I remember as a 4 year old sitting on the ground with just a cloth to sit on, when my father came towards me, threw me a gold coin, and then left. Later, I found out that he went to America. My mother and I did not see him for 9 years. And the curious thing is that I remember him tossing this thick heavy yellow coin- it must have been gold. After that, I don't remember picking it up, or showing it to my mother or grandmother, I just remember the throw, my father gone, and that was it.
—Lucas Samaras, September 25, 2017
Salon 94 Design is pleased to present Lucas Samaras: Gold, an exhibition of the pioneering Greek-American artist's explorations in gold through sculpture, painting, and jewelry. The exhibition highlights three distinct bodies of work: a series of gold-plated bronze sculptures from 1980-81, 22 karat gold jewelry cast from chicken wire made between 1996-98, and his gold Wound paintings made between 1999-2000.
Samaras has painted with gold and silver since the late 50s. The metallic found in the radiators around his studio and the metal paint tubes he was using at the time. More, gold imitates value. Known as his Wound paintings, they conjure trauma and pain. They are akin to contemporary icon paintings and Fontana's slashes.
Samaras' tabletop bronze sculptures depict transformed mythological figures, twisting and turning. There are winged and back-bending figures with old and young faces. Modern furies modeled in clay, and then cast in bronze and gold plated.
The 22 karat gold jewelry is intentionally heavy, in the tradition of ancient ritualistic jewelry. Resisting gold's long, serious "gold standard" history, Samaras chose a more playful, modest material from which to cast- chicken and hardware wire. A trademark, as are his rainbow yarn and tiny beads (Samaras has collected beaded necklaces for decades), Samaras has used the chicken wire for chairs and boxes since the 70s. The perfect material to manipulate and cut, the wire was also easily filled in with thick paint before casting. Each gold piece is unique, and there are approximately 60 pieces in his gold collection.
The exhibition also features one of Samaras' unique gold-plated bronze chairs from 1983, and an iconic exploded Stick Chair from 1989. For more information, please contact Samuel Zients at sam@salon94design.com. For press inquiries, please contact Sophie Wise at sophie@companyagenda.com.
Show Full Text
---