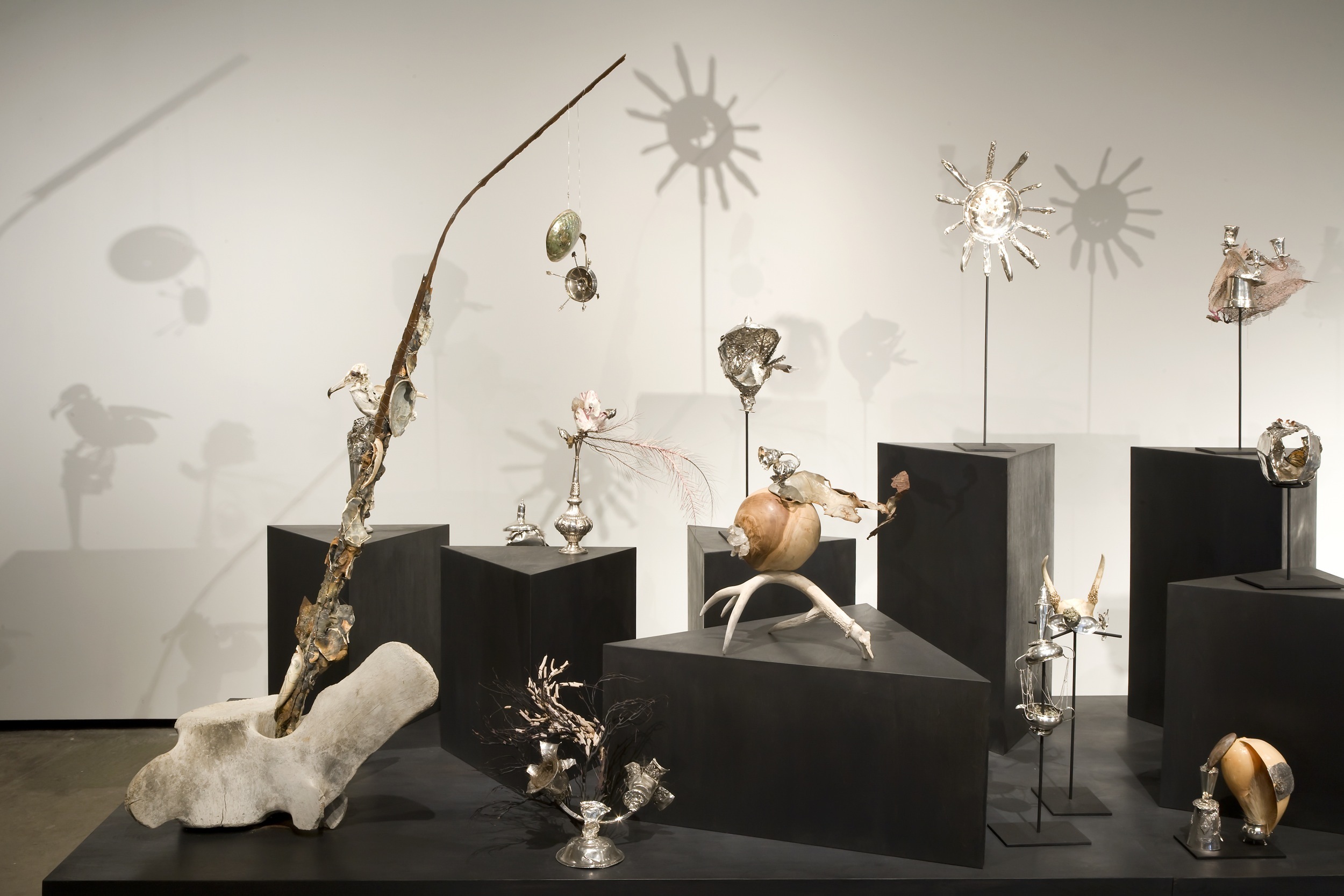 In 1885, Tsar Alexander III commissioned Peter Carl Fabergé's workshop to create a special Easter egg for his wife, Maria Fedorovna. This gift, the "Hen Egg" opened to reveal a golden yolk, which in turn contained a small replica of the Imperial Crown with a ruby egg suspended within. After the Tsar's death in 1894, his son Nicholas II continued this tradition, bestowing Easter eggs on his wife and mother every year. From 1885 until 1917, Fabergé's workshop created 54 extravagantly ornamented and exquisitely crafted Easter eggs, commemorating Russian History and the gilded lives of the Romanov court. Some of the eggs were lost to the Bolshevik Revolution and some to the twisted paths of history.
Kara Hamilton's exhibition, Gift. provenance: unknown is a poetic musing on the missing Fabergé eggs and on the ritualistic economy of gift giving. Initially inspired by elaborate descriptions of the lost eggs, Hamilton's sculptures act as players in newly constructed narratives that reference their supposed past, while transcending it to take on a life of their own. In their new incarnation, they become symbols of the complete social phenomenon of traditional gift economies involving aesthetic, spiritual, mythological, moral and economic dimensions.
Each work reveals a highly ornamented miniature world that combines repurposed sterling silver vintage tableware, jewelry and personal effects with oddments from the natural world: a shell, deer antlers, ladybugs, a feather. Hamilton combines these precious and natural elements into totemic objects that challenge the internal logic of their material. Recomposed and devoid of functionality, these objects obtain a new purpose: that of the ceremonial gift.
A sculptor and self-taught jeweler, Kara Hamilton works in a variety of mediums. She was the recipient of Yale's Barry Cohen Memorial Prize (1999) and has exhibited her work internationally since 1998. A native Canadian, Hamilton received her Bachelor of Architecture from the University of British Columbia, Vancouver and her MFA in sculpture from Yale University. Kara Hamilton lives and works in Toronto, Canada.
Show Full Text
---