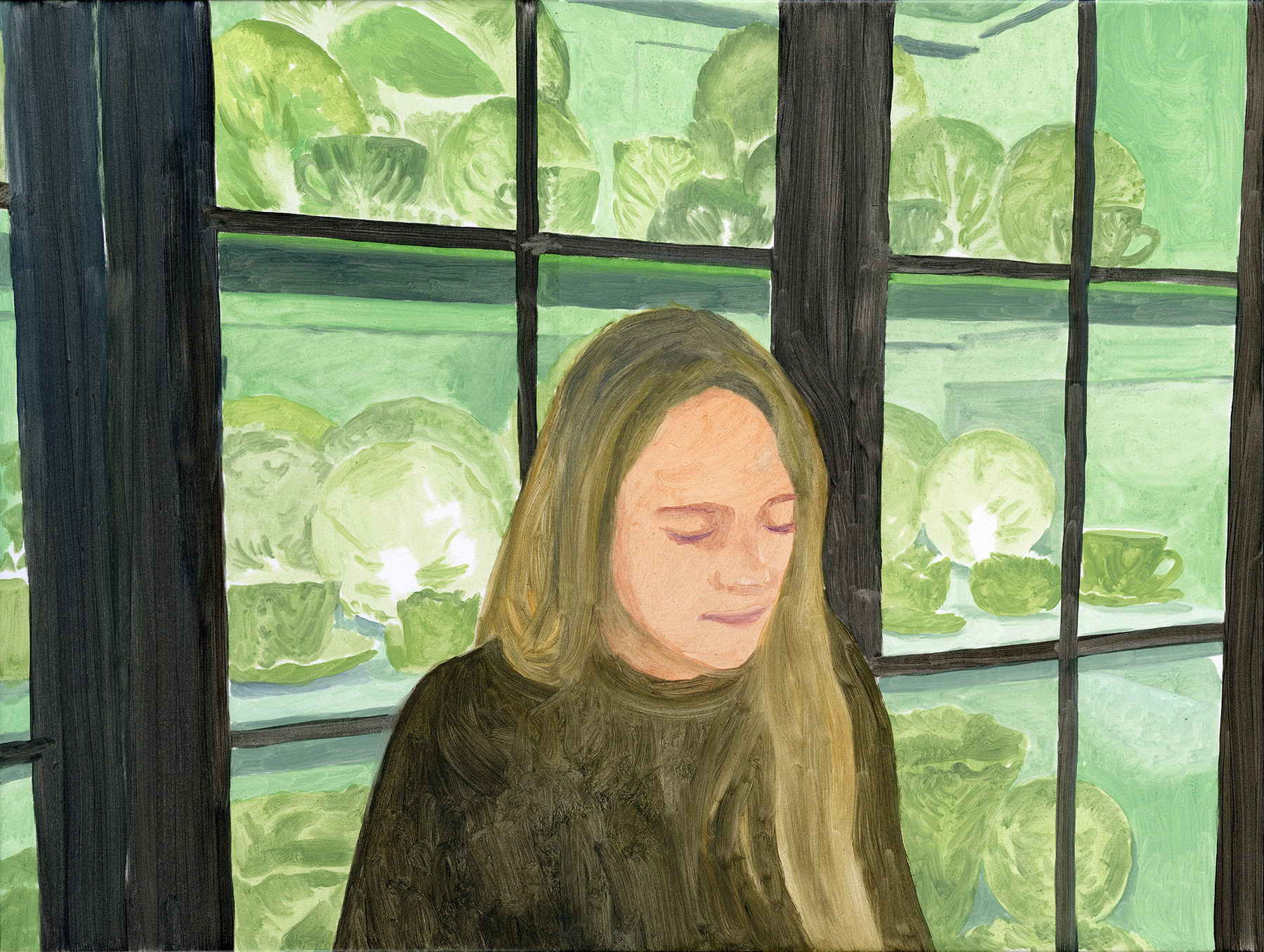 Friends
Lucien Smith
May 01, 2018–June 01, 2018
"I am fascinated by the relationship between painter and subject. For me these works are my way of saying thank you to my friends, a way of allowing our friendship to last forever." — Lucien Smith, April 2018
EM PTY Gallery is proud to present its inaugural exhibition Lucien Smith "FRIENDS", curated by Virgil Abloh. This show presents a series of intimate painted portraits , each one captured initially through the filter of his iPhone. Here, Smith embraces the impromptu and the intuitive, and shows off his signature brisk and light brushwork. His inner circle as subjects, coupled with the painting's small scale distinguishes them as more personal beside his large abstract, albeit romantic, paintings of natural phenomena, such as Rains and Floods.
Every work illustrates a snapshot, a moment that brings the viewer into Smith's world. His friends are in casual repose- mid-conversation, petting a rabbit, sleeping, playing music, or showing off a prize catch. A delicate and loving touch, these portraits were made in his Montauk home studio using traditional oil paint on linen. In practice Smith recalls the speed painting portraits of Caravaggio, Andy Warhol's "circle", and Elizabeth Peyton's melancholic gem-like studies. His short strokes resemble old classic paysage compositions, set softly in today's overly saturated world. His "FRIENDS", which include Lili, a child and his dog Yoda, are open to dialogue as the audience joins in, invited to be part of his community.
Smith's harmonic muted palette captures the subtle Montauk light, pulling us into a dreamy realm. These paintings are fragments of longer visits, leisurely walks on the beach and even a fishing trip. Days long behind, moments we encounter and store away as extended memories. In their repainting, there is a mixture of nostalgia, memory and longing. We recognize his friends as our own.
Abloh has envisioned his store, as a social space, and this collaboration extends this practice. This first collaboration between Lucien Smith and Virgil Abloh is celebrated with a T-shirt alongside the exhibition.
Lucien Smith (born in Los Angeles,CA in 1989) graduated from Cooper Union in 2011 with a Bachelor in Fine Art. Recent solo exhibitions include Cosmas and Damian at Moran Moran, LA (2017); Tigris at Skarstedt, NY (2014); and Nature is My Church, Salon 94 (2013). Smith's work has been included in various group shows: MIDTOWN at Lever House, ANAMERICANA at the American Academy in Rome, Rome (IT); Sunsets and Pussy at Marianne Boesky, NY; and is featured in many private and public collections. He currently lives and works in Montauk, NY.
Virgil Abloh (born in Rockford, IL in 1980) is an artist, architect, engineer, creative director, and designer. After earning a degree in Civil Engineering from the University of Wisconsin Madison, he completed a Master ́s degree in Architecture at the Illinois Institute of Technology. It was here that he learned not only about design principles but also about the concept of collaborative working. He studied a curriculum devised by Mies van der Rohe on a campus he had designed. Currently he is the Artistic Director of Menswear at Louis Vuitton and the Chief Creative Director and head designer of menswear and womenswear at Off-White™️.
"EM PTY GALLERY" is a contemporary art gallery founded in 2017. It is a new conceptual platform merging art and programmed experiences. It is a physical space in the SOHO area of New York City with the capability of having satellite temporary iterations around the globe. It is essentially a open-space formatted to exhibit both the works of traditional and untraditional artists. The think tank surrounding the open space is that it is multifaceted, including thoughts and perceptions from different disciplines. A playground for the experimentation of mixing different branches of art and current culture and exercising these actions to the Nth degree.
EM PTY GALLERY
51 Mercer Street
Monday - Saturday 11AM - 7PM
Sunday 12MP - 6PM
For further press information please contact:
Company Agenda - Sophie Wise
Phone: 212.358.9516; Email: Sophie@companyagenda.com
Show Full Text
---