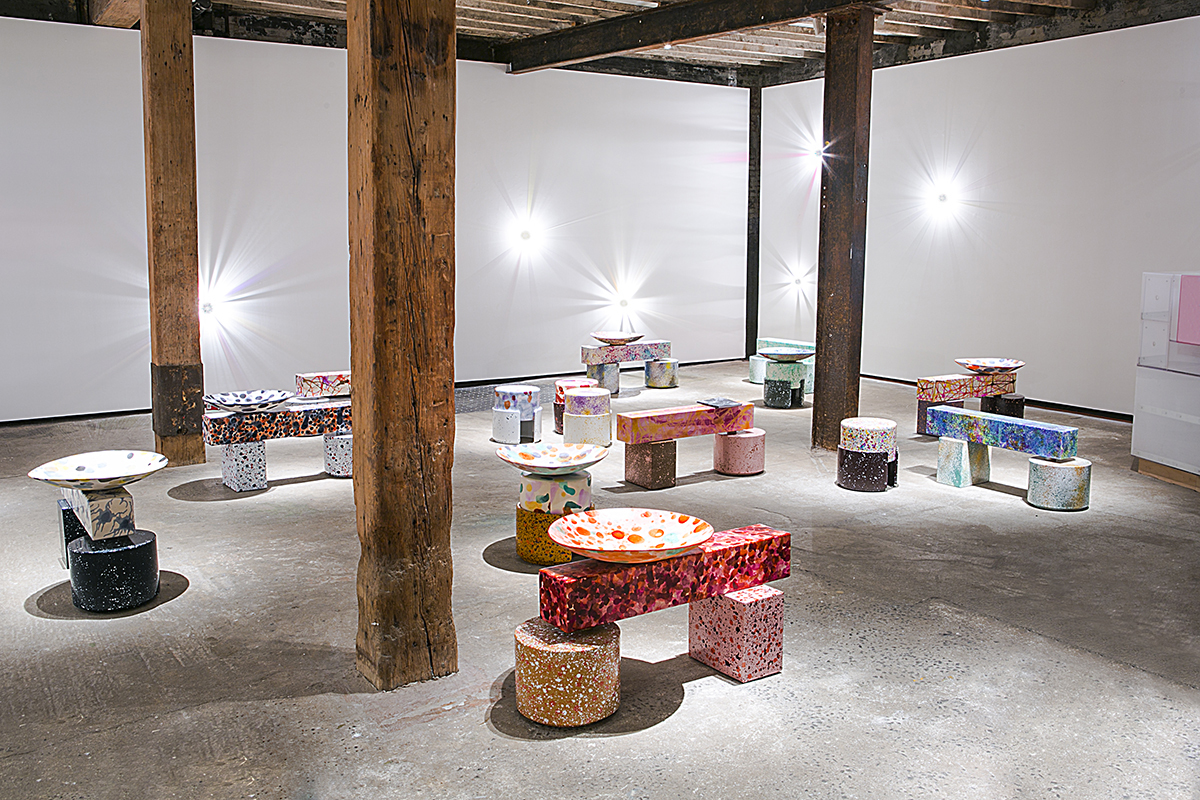 Never Too Much
Kueng Caputo
January 23, 2014–March 22, 2014
Salon 94 Freemans
​Salon 94, in partnership with Rudy Weissenberg, is delighted to present the latest collection from Swiss design duo Kueng Caputo. Never Too Much is a psychedelic series of hand-painted benches, stools, bowls and lights. The artists pair and mirror the contrasting materials of dyed leather for the seat with traditional enamel for the base. The soft Italian leathers are used in a hard way, wrapped around a metal drum. The skins are naturally dried and tanned, then splattered and sprayed with organic vegetable stains. In contrast to the "wet" process of staining, each color in the enamel is fashioned from a metal coating, independent layers baked-on separately and methodically, resulting in a complex and deep surface texture. The dynamic works celebrate process experimentation, material play, and exuberant color.
Lined up, coupled and stacked, the offbeat chairs and benches function as sculpture, side-table and display. Made in a serial shape, each piece is unique. As with their other exaggerated and humorous design—a chair with the soft layers of a sandwich for the seat, or a stool perched on a skateboard base, for example—the leather and enamel works present a light-hearted riff on Bauhaus shapes and Memphis Group hues, while also playfully redoing Pollock's painterly brush splatters and stick pours. In 2009, Kueng Caputo received the Swiss Federal Design Award for Copy by Kueng Caputo, a collection of "fakes." These exaggerated pieces dissect signature upmarket design objects with homage and critique. The artists continue to draw on material and process with academicism and levity.
The bowls are familiar but odd, material fetish objects made only from leather. Soft and supple hide on the inside, and a stony suede for the outside. Store-bought, hand-painted lightbulbs offer an all-over light installation that mimics the overlapping stains of color. Slightly retro and trippy, like the effect of a lava lamp, the installation feature reflects their improvised process of layering color until they hit a visual combination they've never experienced before.
Sarah Kueng and Lovis Caputo have worked together since they were students of design at the HGKZ Zurich from 2004 to 2008. Their first Five Stars Cardboard installations at the Salone Satellite, Milan in 2007 went on to show in South Korea, Basel and New York. Salon 94 has been exhibiting their work since 2009. The gallery has presented the felt collection, skateboard chairs, and sand chairs. The work of Kueng Caputo is in the collections of Museum für Gestaltung Zurich and Gewerbemuseum Winterthur, Switzerland.
Show Full Text
---