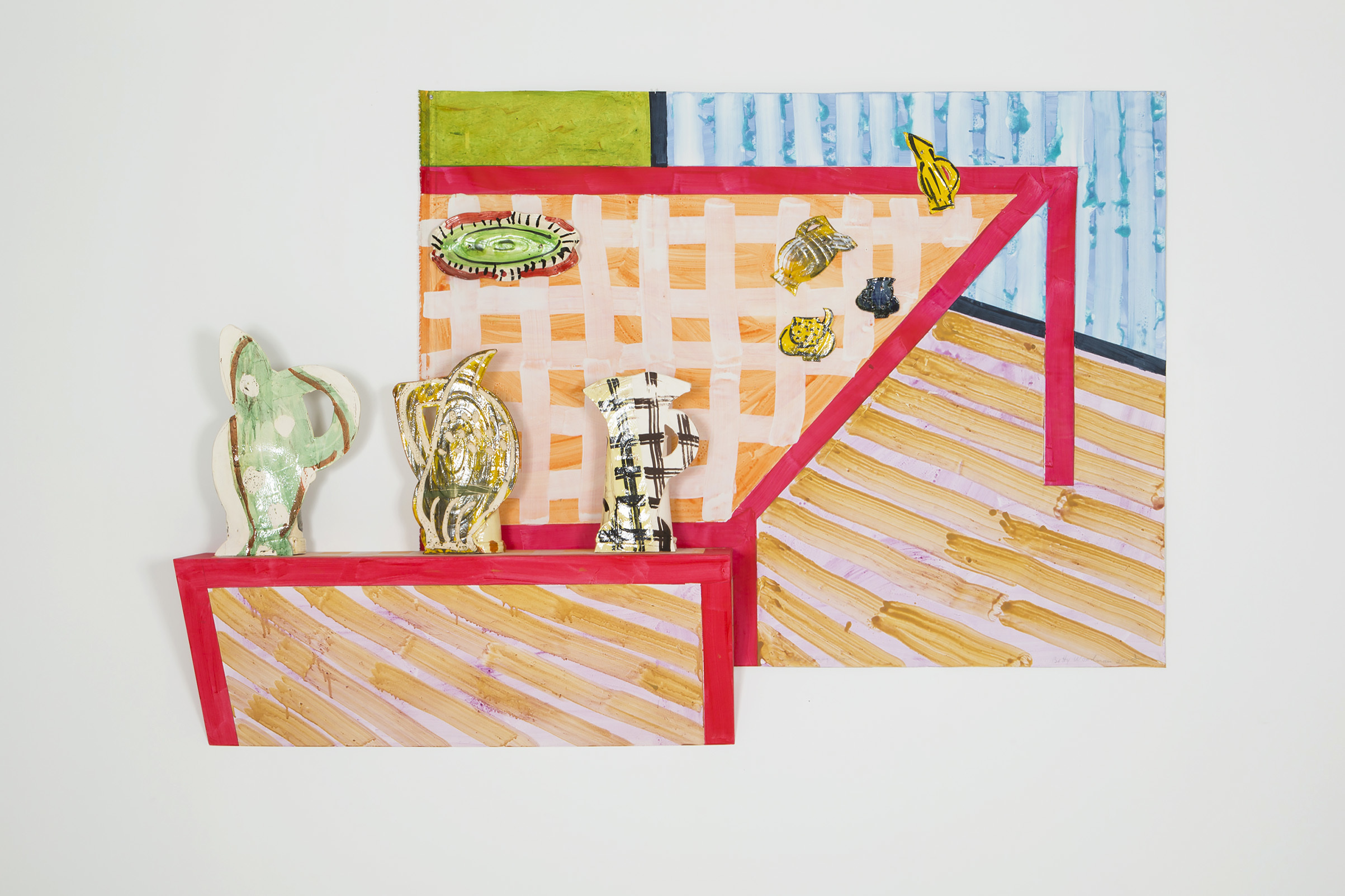 Breakfast At The Seashore Lunch In Antella, an exhibition by Betty Woodman at Salon 94 Bowery, features a series of new wall-based works. It includes pieces that incorporate both flat and three-dimensional ceramic forms as well as painted canvas and wooden shelves. The artist's fourth exhibition at the gallery, the show highlights her experimental approach to perspective and bold use of color, distilling her vision of domestic spaces as imaginative landscape.
As a pioneering artist of her time, Woodman continues to transform the use of clay in contemporary art and dismantle notions about the divisions between painting, sculpture, and applied arts. Over the last 50 years she has become an increasingly central figure, and an influence on several generations of younger artists who refuse to abide by the idea that given materials can only be used in predetermined contexts.
Several of the works on view depict interiors in which tables thrust toward the viewer, dramatically dominating the foreground. Woodman challenges the eye to reconcile two- and three-dimensional spaces simultaneously: flat tables battle the perspectival architecture that surrounds them for perceptual dominance. Complicating these scenes further are the ceramic elements that serve as their protagonists. In some cases, Woodman installs glazed vessels on painted wooden shelves. These inhabit the world of the painting but also directly assert their presence in the physical space they share with the viewer. In other works, she affixes flat ceramic objects in the shape of vases, pitchers, and platters directly to the canvas, creating an illusionistic dance between extremes of flatness and depth. Painted images of vases can be found throughout, and function as echoes or silhouettes of the sculptural elements, introducing yet another layer to Woodman's vertiginous formal choreography.
Each painting is a window into a realm of vibrant possibility, one in which idealized, even abstract, beauty reaches its highest expression in the tactile, utilitarian, and embodied objects and activities of everyday life. As suggested by the show's title, Woodman creates views of a world where pleasure––and visual pleasure in particular––is not merely a diversion, but a force that knits together our basic rituals and the way we experience time.
A video made by Woodman in collaboration with her son, artist Charles Woodman is on view concurrently as part of the gallery's Video Wall series. On February 3, Woodman's first solo museum show in the UK opens at the ICA London. A related catalogue will be published this spring.
Betty Woodman (b. 1930, Norwalk, Connecticut) divides her time between studios in New York City and Antella, Italy. Her work has been presented in museums worldwide including solo exhibitions at Museo Marino Marini, Florence, Italy; The Gardiner Museum, Toronto, Canada; American Academy in Rome. Italy; Museo Delle Porcellane, Palazzo Pitti, Giardino di Boboli, Florence, Italy; Institute of Contemporary Art, Philadelphia, PA; Stedelijk Museum, Amsterdam, Netherlands; and the Fundação Calouste Gulbenkian, Lisbon; and group exhibitions at the Brooklyn Museum, New York, NY; Victoria and Albert Museum, London, UK; and the Walker Art Center, Minneapolis, MN among many others. In 2006, she was the subject of a solo exhibition at New York's Metropolitan Museum of Art, the institution's first and only for a living artist working in ceramics, and its first retrospective for a living woman artist. Woodman's artworks are part of over fifty public collections including the Stedelijk Museum; the Whitney Museum of American Art, New York, NY; the Los Angeles County Museum of Art, CA; and the National Gallery of Art, Washington, DC.
Show Full Text
---